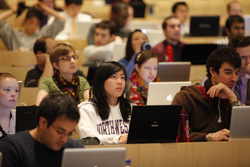 Starting in summer 2014, Northwestern University's Program in Public Health will offer a four-quarter, intensive Masters in Public Health.
Northwestern University has long provided the opportunity for healthcare professionals and those working in public health and medical research to pursue an MPH degree through a part-time, evening program on its Chicago campus.
This new intensive, full-time program is designed for health professionals, medical students, post-doctoral trainees and public health workers who wish to complete the MPH degree in one year.
"The MPH is a recognizable degree around the world. It provides a way of thinking about population-based research and practice directed toward improvement of the health of the public," said Maureen Moran, MPH, associate director of the Program in Public Health and assistant professor in Preventive Medicine. "The skills acquired in the MPH are useful to those clinicians who are interested in advocating for their communities, for addressing health promotion and disease prevention, and in conducting population-based research, including understanding the causes of diseases and other outcomes and the effects of interventions on the health of individuals and communities."
The degree requirements are the same for both the one-year and part-time degree programs. Rather than a two year cycle of seminars called "Topics in Public Health," students in the one-year program will complete an online class in the summer that covers the material covered in one year of seminars. The coursework also includes five core courses (biostatistics, behavioral science, management, epidemiology and environmental health sciences), an intermediate level course in epidemiology or intermediate biostatistics, a research methodology class, six electives and a field experience in Chicago.
Northwestern University Feinberg School of Medicine's Department of Preventive Medicine and The Graduate School of Northwestern University oversee the program. The courses are taught by faculty members from the medical school, Northwestern University Law School and the Kellogg School of Management. Additional faculty members are public health practitioners in the community and around the world.
For questions about the MPH program or the admissions process, contact pph@northwestern.edu.