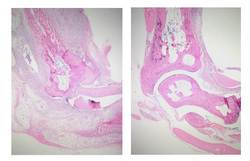 Northwestern Medicine scientists are offering new hope to the millions of people suffering from rheumatoid arthritis (RA).
"What we uncovered is that an enzyme (IRE1a) involved in a completely different biological function is highly activated in macrophage cells from the joint fluid of rheumatoid arthritis patients," said Deyu Fang, PhD, associate professor in Pathology. "Having defined a novel therapeutic target for the treatment of inflammatory disease, this discovery could have a far-reaching impact."
The findings were published in the European Molecular Biology Organization (EMBO) Journal. Research associate Quan Qiu was first author.
Rheumatoid arthritis is a chronic debilitating disease of the joints that affects approximately 2 to 3 percent of the world's population. Because the cells of the immune system play an important role in this chronic inflammatory process, RA is typically classified alongside disorders like lupus as an autoimmune inflammatory disease.
Their shared symptoms mean lupus and RA are often confused for one another. In both disorders, macrophage cells found in bone marrow contribute significantly to the disease.
"Since macrophages are the major source of inflammatory signaling molecules, we wondered whether IRE1a activation is responsible for their production and therefore RA development," Fang said. "When we suppressed IRE1a function through a genetic deletion, the animal models became resistant to RA."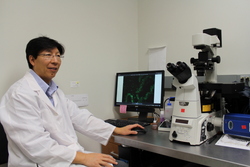 The discovery puts into question the current theory that a different pathway, NF-kB, plays the dominant role in inflammatory cytokine production. Cytokines are the molecules responsible for inflammatory signaling.
"When we looked at models without IRE1a, we found the expression of molecules in the NF-kB pathway unaltered, yet their production of inflammatory cytokines was largely diminished," Fang said. "This implies that the role of IRE1a in regulating inflammatory cytokine production is much greater than previously considered."
The lab will next test the efficacy of small molecule inhibitors that suppress IRE1a activity. Among four recently identified inhibitors, the Fang lab discovered one named 4u8C that largely diminished joint inflammation in mouse models.
"The implication is that pharmacological IRE1a suppression holds great therapeutic potential in RA treatment," Fang said. "We are also investigating the involvement of elevated IRE1a activation in the development of other inflammatory diseases such as lupus, diabetes and multiple sclerosis to evaluate the potential of IRE1a suppression using genetic and pharmacological approaches as a treatment option."
The work was supported by National Institutes of Health grants AI079056 and DK083050.