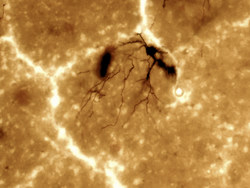 Northwestern Medicine scientists have identified events that may contribute to delayed synaptic and neuronal development in fragile X syndrome, the most common known cause of autism.
Anis Contractor, PhD, associate professor in Physiology and Neurobiology, and a team of lab members led by postdoctoral fellow Qionger He, PhD, discovered that the normal maturation of the neurotransmitter GABA is delayed in fragile X mice. This delay may prevent the proper development of cells within the brain's cortex.
The findings were published Jan. 8 in the Journal of Neuroscience.
"There is a well-defined delay in the development of synaptic connections in fragile X, but the underlying mechanisms have remained a mystery," said Contractor, associate director of the Northwestern University Interdepartmental Neuroscience Graduate Program. "We believe that how GABA signaling matures during early development is crucial for the proper formation of synaptic contacts, and that a delay in this switch could affect the normal wiring in the cortex."
Fragile X syndrome is the most common form of inherited human intellectual disability and also the single most common known cause of autism, affecting an estimated 1 in 4,000 males and 1 in 5,000 females. Recent studies have focused on alterations in synaptic development as a core component of the disorder.  Synapses are the structures that connect neurons and permit them to communicate with one another. Delays in synaptic and neuronal development in the cortex are hallmarks of fragile X syndrome.
The Contractor lab used a preclinical mouse model of fragile X and focused on the cortical critical period in the sensory area of the cortex. The critical period is a time when neurons are developing and synapses forming during the first two weeks after birth. They found that the delay in GABA maturation correlated with the timing of delays in maturation of excitatory synapses, which are undergoing rapid development during this time. These alterations affect connectivity between neurons, and are likely to underlie some of the sensory issues associated with fragile X.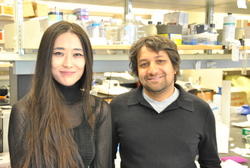 Contractor was also able to demonstrate that the delay in GABA maturation is a result of alterations in the expression of an important chloride transporter (NKCC1). This transporter can be inhibited by a commonly used, FDA-approved drug.
A group of scientists in France recently used the drug in a small-scale clinical trial that demonstrated a positive effect in children with autism. Because this drug could potentially correct the alterations in maturation of GABA signaling, Contractor believes his lab's discovery could explain the mechanism for its success.
"This is still speculative, but our findings might be more widely applicable to autism in general, and the delay in GABA maturation may be seen in other neurodevelopmental disorders," Contractor said.
The lab plans to test the drug from the French study to determine if it can reverse the cellular level alterations in fragile X mice.
"Ten years ago I don't think anyone believed that we could cure fragile X, autism or other neurodevelopmental disorders," Contractor said. "Having defined the genetic causes of some of these disorders, we have been able to generate mouse models so that physiologists like myself can start looking at what happens in the brain if you delete autism related genes. With an ability to see how neurons and synapses are altered, a window has really been opened to the possibility of fully understanding what underlies these disorders."
The project was supported by the Simons Foundation Autism Research Initiative and the FRAXA Research Foundation.