In Latin America, a single mosquito can bring with it a debilitating bite.
"Each year, more than 100 million people are infected with dengue, a complicated virus with no vaccine and no specific treatment," said Guajira Thomas, MD, a third-year fellow in Medicine-Infectious Diseases. "What this initial study will be investigating is the possibility that a genetic predisposition makes some people more susceptible to deadly forms of the infection."
Together with Steven Wolinsky, MD, chief of Infectious Diseases, and scientists in Nicaragua and at the University of California-Berkeley, Dr. Thomas will spend the next two years testing and analyzing data on a scale never before done with dengue.
"Once we find a gene that is of interest, it will be of extreme value to see if it is associated with other RNA viruses, like HIV or influenza, or if it is specific to dengue," said Dr. Wolinsky, Samuel Jefferson Sackett Professor of Infectious Diseases. "The endgame is really to find a drug target worth exploring."
The blood samples Dr. Thomas will be analyzing come from a cohort of almost 8,000 Nicaraguan children and include cases of mild to severe dengue, as well as those with no disease.
"We will concentrate our efforts on a group of children that experienced the worst outcome of infection, conducting genetic sequencing focused on important segments of DNA," Dr. Thomas said. "Finding variations in those genes would be a major breakthrough."
The Northwestern Medicine project is already groundbreaking in terms of funding. The Division of Infectious Diseases, in collaboration with the Center for Global Health, is receiving support through a Global Health Initiative (GHI) Fund seed grant.
"The GHI Fund was able to provide the $200,000 in funding required to study the Nicaraguan cohort, which in turn will likely lead to a much larger multi-year National Institutes of Health grant studying genetics and infectious disease," said Robert Havey, MD, assistant professor of clinical Medicine-General Internal Medicine and Geriatrics, founder of the GHI. "This marks the first time the GHI Fund has been used for a large-scale research project dedicated to the study of infectious disease."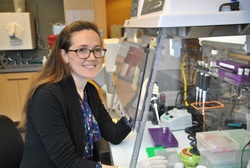 With more than one-third of the world's population living in at-risk areas, dengue infection is a leading cause of illness in the tropics and subtropics. Transmitted by female Aedes aegypti mosquitos, the five related dengue viruses cause fever, severe headache, muscle and joint pain, nausea and vomiting, with symptoms usually lasting two to seven days.
Most of Nicaragua's more than 8,000 dengue cases last year, including 22 deaths, were concentrated on the border with Honduras, a nation that had nearly 20,000 cases in 2013.
"We're seeing an increase in prevalence in part because of the growing urban centers in Latin America, where dengue has effectively found a home," said Dr. Thomas, who earned her medical degree from the Universidad Francisco Marroquin in her native Guatemala. "We're looking at host genetics including ancestry because although we tend to lump Hispanics together, the proportion of Native American, African and European ancestry can be very different depending on their region of origin."
Dr. Thomas hopes to use what she learns from the project and an upcoming trip to Nicaragua to establish a similar blood and data repository in Guatemala. During the trip in February, Drs. Wolinsky and Thomas will meet with the Nicaraguan minister of health and dengue researcher Eva Harris, PhD, a McArthur Fellow and director of the Center for Global Public Health at Berkeley.
"Individually, we each have a baseline number of mutations in our genome, and a lot of times, different populations are under siege by different infectious diseases," Dr. Wolinsky said. "It's very hard to find the mutation that's actually causative, and so the first thing Dr. Thomas will need to do is define who this at-risk group is. Then we can determine what mutations might be the most significant."