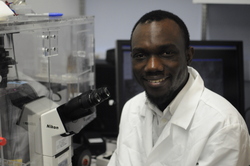 "Since I first learned about viruses in school I thought they were the most amazing creatures," said Osefame Ewaleifoh, a second-year PhD/MPH student. "I was fascinated by their capacity to adapt to new environments and survive exclusively on host metabolism."
Ewaleifoh's interest in viruses led him to study the herpes virus and its application to the nervous system in the lab of Gregory Smith, PhD, associate professor in Microbiology-Immunology.
His first project investigates the cellular basis for differential susceptibility to herpes viral encephalitis (HSE) in children. Previous studies have shown that some children have a genetic mutation that allows the herpes virus travels to the brain more easily causing encephalitis. This viral induced inflammation of the brain often leads to death. Ewaleifoh and Smith are collaborating with scientists from Rockefeller University and Harvard University to understand how the mutation works.
"The true beauty of a collaborative project is working with and learning from experts on different subjects," Ewaleifoh said. "As a student in a virology lab, this collaboration has given me access to other labs with years of experience in human stem cells, neuroscience and genetics. This comprehensive integrated training is one that you can hardly get outside of a collaborative project."
For his part of the study, Ewaleifoh seeks to find the specific mode of action of the TLR3 mutation. To learn more about the mutation, the project involves taking skin cells from patients, converting them first into brain stem cells and finally neurons, and then studying viral infection. Learning more about this mutation will allow scientists design better therapeutics and understand why some children are more susceptible to herpes simplex viral infections and encephalitis.
"I was attracted to this problem because it allows us to approach a complex but essential clinical condition with basic science tools," Ewaleifoh said. "Also, understanding how and why children with these mutations are more susceptible to herpes simplex viral encephalitis could have significant therapeutic impact."
In his second project, Ewaleifoh investigates the source of energy for herpes simplex virus transport in neurons. To do this he uses special florescence tagged viral proteins developed by Smith to track and monitor the herpes virus as they travel in neurons in real time.
Being able to understand the source of "fuel" for the virus is important for the development of novel therapeutics. By finding the specific protein(s) that provides energy to the virus, scientists could target that protein and shut down viral transport.
"I like being able to study different components of the virus and being able to ask basic biological questions that are simple but have broad implications," he said. "Herpes viruses are fascinating because they specifically target the nervous system. Understanding the composition and mode of transport of viruses like herpes is important because it helps us develop better therapeutics for herpes-related diseases."
In addition to his basic science research in virology, Ewaleifoh is pursuing a master's in public health. The public health degree allows him to put into perspective the work he conducts in the lab.
"Learning about viruses both in the lab and from a public health perspective allows me to see more of a connection between the mechanisms of how a virus works and its impact in the community and the world. Doing both allows me to engage in the short term and invest in the long term," he said.