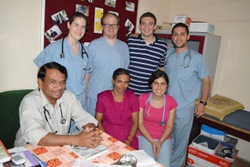 In the foothills of the Himalayas, four Northwestern University Feinberg School of Medicine students spent a week volunteering in a hospital in the town of Missoorie, India, as part of a new program through the Northwestern University Alliance for International Development (NUAID).
"We would go on morning rounds that included primary care, pediatrics, obstetrics and gynecology, and even a dental clinic," said Jason Chodakowski, a second-year medical student. "The nurses would always be available and we would text each other if there was something cool to see."
The student-led organization has sent medical students to global health sites for more than 10 years. This year, the group started a month-long program in India. Child Family Health International, a U.S. non-governmental organization that places health-science students in global-health education programs, helped fund and plan the trip.
Also through NUAID, KJ Hansmann, a second-year medical and master of public health student, spent the month in Delhi, India. Hansmann went to different nonprofit organizations every day, speaking with organizers of outreach programs focused on issues such as needle exchange, maternal and child health, and sanitation.
"There were a lot of opportunities to connect ideas and compare programs within and around Delhi, and with what I have seen in the United States," she said. "I found the experience to be really valuable because I got a new perspective on a lot of public health issues. Seeing how people come up with solutions in resource-limited settings was really inspirational and gave me ideas for what we could be doing to address the many public health problems we have in our country."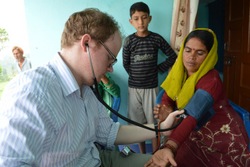 While Hansmann stayed in Delhi, the rest of the group traveled to different healthcare settings each week, moving from rural clinics to urban hospitals. They had a chance to practice some of the physical exam skills and run the basic diagnostic tests that they had learned during their first year of medical school. They also observed surgeries and deliveries.
Fourth-year medical students Katie McDonald and David Christopher Brooks also served in a teaching role, explaining to the second-year students what was going on with patients and how the doctors were thinking about managing them.
"The experience made me want to learn more," said second-year student Amy Abramowitz. "It was cool to see how some of the basic medical principles we had learned first year were applied in clinical practice. It reinforced why I want to keep studying medicine."
The students plan to help the next group of program participants start a service project in India that they hope to see grow over the years.
"It was exciting to be a part of the first NUAID trip to India," said Chodakowski. "The month spent in India was an unforgettable and magnificent experience. The medicine we witnessed, the physicians and nurses we worked with, and the patients we got to interact with brought the kind of perspective to my medical education that only an actual, immersive experience abroad could bring. I am looking forward to the next group of students gaining that perspective, too."