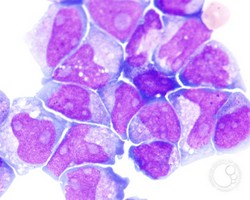 A group of inhibitors currently in clinical trials for the treatment of solid tumors may prove useful in targeting a treatment-resistant subset of acute myeloid leukemia (AML), a cancer that arises from the bone marrow.
Elizabeth Eklund, MD, professor in medicine-hematology/oncology, is working to determine if two proteins increase the production of a specific growth factor (Fgf2), which in turn promotes growth of leukemia cells.
If true, an Fgf2 receptor inhibitor might be used to augment chemotherapy or prevent relapse in individuals with AML. Eklund has been awarded a Leukemia and Lymphoma Society (LLS) Translational Research grant to pursue her hypothesis.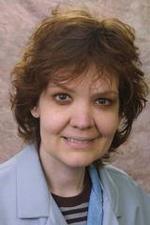 "The only way to move these projects out of the lab and into the clinic is through a funding mechanism like the one supplied by the LLS," said Eklund, a member of the Robert H. Lurie Comprehensive Cancer Center of Northwestern University. "This grant will allow us to take our basic science research and start to apply it to potential drug treatments."
During the next three years, Eklund will be working with animal models, and later human tissue samples, to determine if Fgf2 receptor inhibitors increase the effectiveness of chemotherapy or contribute to lower relapse rates. AML has several subtypes, and five-year survival rates range from 15-70 percent, with relapse rates between 33 and 78 percent.
"If we can show that either of these inhibitors are increasing the effectiveness of chemotherapy or preventing the leukemia from coming back, there will be an opportunity to apply for an additional two years of funding to bring our research to clinical trials," Eklund said.
If that is achieved, she expects the project to evolve into a larger collaboration involving Frank Giles, MD, professor in medicine-hematology/oncology, and the Developmental Therapeutics Institute that he directs.