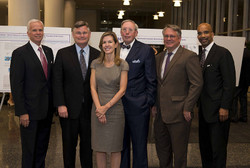 On Tuesday, October 1, the first of several Institutes at Northwestern Medicine® launched. Comprised of the Bluhm Cardiovascular Institute and the Feinberg Cardiovascular Research Institute (FCVRI), the Heart Institutes at Northwestern Medicine represent the comprehensive approach of Northwestern University Feinberg School of Medicine and Northwestern Memorial HealthCare.
"Our world-class experts at Bluhm and the FCVRI personify our commitment to fulfilling the Northwestern Medicine vision," said Eric G. Neilson, MD, vice president for medical affairs and Lewis Landsberg Dean. "Joining together, they will make the Heart Institutes at Northwestern Medicine a recognized leader in cardiovascular medicine through clinical excellence and the discovery of innovative new therapies."
The evening began with a scientific poster session featuring the research of nearly two-dozen members of the Heart Institutes. Mazen Albaghadi, MD, a cardiovascular disease fellow, presented a groundbreaking biodegradable stent project he is conducting in the lab of Melina Kibbe, MD, Edward G. Elcock Professor of Surgical Research.
Stents are tubes or scaffolding, most commonly made of metal, placed in the coronary arteries to keep them open. A number of clinical trials testing biodegradable versions made of plastic are taking place across the country.
"This next-generation biodegradable stent releases nitric oxide, a natural restorative molecule in the body, to promote vascular healing," Albaghadi said. "While this project is advancing through preclinical trials, I am also engaged in clinical work with Mark Ricciardi, MD, associate professor of medicine-cardiology, testing an already designed stent that degrades over time and is ultimately completely absorbed by the body."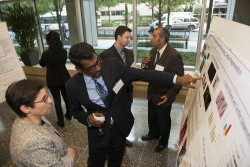 Gathering in the Hughes Auditorium, the night's program featured presentations by Clyde Yancy, MD, chief of medicine-cardiology; Patrick McCarthy, MD, director of the Bluhm Cardiovascular Institute; Susan Quaggin, MD, director of the FCVRI; and Douglas Vaughan, MD, chair of medicine. 
"We are a Chicago-based institution and we make no small plans," said Yancy, quoting famed architect Daniel Burnham. "We believe that Northwestern Medicine is ideally suited to make a difference in health and disease by developing, introducing, and perfecting leading-edge technologies that will treat the most advanced diseases." 
Yancy emceed the hour-long event, introducing his colleagues and moderating a panel discussion that concluded the formal portion of the evening's program. 
"We applaud the leadership of Drs. McCarthy, Quaggin, Yancy, Vaughan, and all of their colleagues for making the Heart Institutes at Northwestern Medicine a reality and ushering in a bold new era for Northwestern Medicine," said Dean M. Harrison, president and chief executive officer of Northwestern Memorial HealthCare. 
The panel discussion featured faculty members Robert O. Bonow, MD; Charles J. Davidson, MD; Mark K. Eskandari, MD; Mark D. Huffman, MD, MPH; Donald M. Lloyd-Jones, MD, ScM; Vera H. Rigolin, MD; Neil J. Stone, MD; and Vaughan.