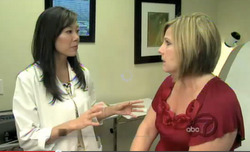 Four years ago, Shirley Chi, MD'01, GME'02, reported her first story as a dermatology expert for the local affiliate of ABC News in Los Angeles. Since then, she has become an on-air advocate for patients, doing stories on topics ranging from sunscreen protection and bug bites to skin diseases such as psoriasis.
"The experience is like a patient visit, but with millions of people at a time," said Chi. "It is a gift to be able to get a message out to people who may not be able to afford a dermatologist or may not know they need to see one."
Chi believes this opportunity to impact such a large number of individuals would not have come to her if she hadn't attended Northwestern University Feinberg School of Medicine.
"I had the right background. Feinberg taught me not just how to be a physician, but also how to be a good communicator," she said.
During one of her favorite courses during medical school, she learned communication skills and ethical reasoning, as well as attitude and conduct in the physician-patient relationship.
The faculty member leading the course, former chair of neurological surgery Leonard Cerullo, MD, also served as her mentor. Chi remembers admiring Cerullo's ability to balance teaching with his other responsibilities, and says that's something she strives for in her life.
"I have been able to maintain that balance of academics and private practice that was modeled to me by my teachers at Northwestern," she said.  "Now that I have a beautiful 10-month-old son, life balance becomes even more important. I feel truly blessed to be able to maintain a busy clinic along with all my family responsibilities."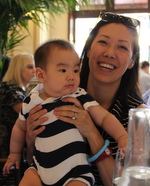 Chi notes fourth-year rotations as another highlight of medical school. One particularly memorable moment occurred when the internal medicine team was baffled by a patient with a mysterious rash and asked Chi to send for a dermatology consult. She witnessed a dermatologist give a diagnosis without expensive lab tests or heavy equipment.
"The dermatology team strode in like a scene from a Western film. They examined the patient and made the diagnosis of Reiter syndrome right on the spot," she said. "I was so taken by their ability to recognize a disease and diagnose an internal condition by the skin that I quickly made up my mind that this was the specialty for me."
Chi maintains a private practice in Arcadia, California, and teaches as a volunteer faculty member at the University of California, Los Angeles.
"I always tell my students that they make me smarter," she said. "They are always studying and reading journals on the latest research. Just by being around them I learn and stay on top of new information in my field."
Chi also serves as the director of dermatology-resident education at Olive View-UCLA Medical Center. For her dedication to teaching future doctors, she received the President of the United States Volunteer Service Award.  
"I realized with each class and with each rotation at Northwestern that my teachers were all leaders at the forefront of their respective fields," she said. "That sort of environment encouraged me to do my best and try to become a leader in my profession and in my community, not just through teaching young dermatologists, but by being an outspoken advocate for my patients, as well."