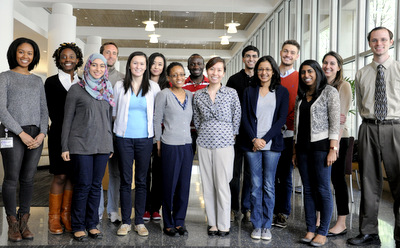 Third-year medical student Warren McGee and Director of the Office of Diversity Sunny Gibson worked together to revamp Sidewalk Talks, a student-led initiative to bring aid to people experiencing homelessness. 
Gibson and McGee reached out to Fourth Presbyterian Church and Dan Hula, director of the Chicago Lights Elam Davies Social Service Center. The new community partnership, Good Neighbors, was formed shortly thereafter to provide resources and build relationships with individuals experiencing homelessness in the Streeterville neighborhood of Chicago.
"The partnership with Northwestern Feinberg School of Medicine has been a perfect match," said Hula. "Good Neighbors has truly turned into a community program. We both believe that not only is it important to help homeless individuals on the street, but it is a civic responsibility. We believe in respecting the dignity and worth of each and every individual we interact with."
The partnership fulfills a need for in-person outreach, which is critical to engaging individuals experiencing homelessness. It utilizes student time by adding to staffing that Hula was looking for to increase awareness about services at Chicago Lights.
"It's an excellent opportunity for people to become engaged in the local community," said McGee, also a Medical Scientist Training Program student. "We have a lot of opportunities to serve Chicago, but many of them are in other neighborhoods, not the one the medical school is in."
Students interested in volunteering started training in late March and the first group of students began meeting with homeless individuals at the end of April. The training included lectures, role playing exercises, and motivational interviewing techniques, a skill learned in medical school classes.
"As future physicians, we are going to have different types of patients from different backgrounds and we will need to get to know all of them," said Jennifer Smith, a second-year medical student. "Some of our patients we will be able to directly relate to. With the homeless population, you learn that they have unique needs that you have to be aware of."
On Fridays from noon to 2 p.m., students hit the streets with duffle bags of provisions containing nonperishable food and drink, toiletries, resource information cards, and other necessities such as ponchos, socks, and reusable containers. Currently, there are 20 students participating.
"Since we pass by homeless people all the time, they become part of the background," said Smith. "So really giving them voices, giving them an opportunity to tell their story, and acknowledging them as a person instead of just viewing them as part of the sidewalk, is important to be able to provide them with resources and steps to long-term improvement."
McGee hopes to engage other residents and businesses in the area to ask them about their attitudes toward the homeless, how they deal with this population if there is an issue, and to discuss better ways of approaching problems.
"I want to address what is the issue, what is your story, and what can we do to help you out," said McGee. "We are hoping to shift our whole neighborhood's perspective on people who are homeless and what we can do to help them."
Starting this fall, students will work on building case reports on the people they meet. They plan to record their stories, needs, and long term goals. McGee says this will provide some continuity for the volunteers going out every week. Eventually, as the group establishes relationships, they hope to connect the Streeterville homeless population with resources to help them accomplish their goals, such as finding housing and jobs.
Shanti Leon Guerrero, a third-year medical student, said participating in the program was a great experience because it gave her a better idea of the needs of the homeless.
"We now have a more concrete example of what might be helpful, so instead of running by and grabbing a sandwich to hand out or giving out five dollars, it might be more useful to grab a pair of socks," she said.
Nick Bowman, a graduate student in the Northwestern University Interdepartmental Neuroscience Program, learned about the program through word of mouth and likes the scientific approach it takes.
"This group's efforts aren't a haphazard attempt to reach out to people, but a collaborative endeavor that uses hypothesis testing to see what is really going to work. As a scientist, that is what was appealing to me," he said. "A coordinated program like this has so much potential to keep that flicker of hope alive. We are creating a rapport with the homeless so they can come to the Fourth Presbyterian Church and gain access to counseling and eventually find a more stable living environment and a job. It's a route back into society, which we accomplish by establishing trust."
The Good Neighbors partnership leaders intend to train and recruit new volunteers each year.  Its founders hope that it can make a long term impact in the lives of both volunteers and neighbors experiencing homelessness.  Through mutual learning, action and benefit delivered in a sustainable partnership, Good Neighbors hopes to live up to its name.
For more information about Good Neighbors, contact Sunny Gibson or Warren McGee.