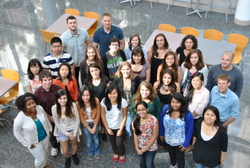 This fall, new PhD students are arriving on the Chicago campus to join the Driskill Graduate Program in the Life Sciences (DGP), Northwestern University Interdepartmental Neuroscience Program (NUIN), Medical Scientist Training Program (MSTP), Clinical Psychiatry PhD program, Doctor of Physical Therapy/PhD program, and and Health Sciences Integrated PhD (HSIP) Program.
DGP welcomes 28 new PhD students. This group includes individuals with undergraduate degrees from schools as close as the Midwest, and as far as Mexico, India, and China. These students will complete courses and lab rotations during the first year, which allow them to explore several types of research before selecting a dissertation lab and project.
The new NUIN students hail from Colombia, Turkey, China, India, and the U.S. The entering class comprises 22 PhD candidates. They will complete coursework and research rotations in at least three different laboratories before committing to a single lab to conduct thesis research.
The MSTP welcomes 12 new students who earn both their MD and PhD degree at Northwestern. They will complete two years of medical school before starting their doctoral program in a lab. Once they earn their PhD, they will return to medical school to complete their Doctor of Medicine degree. This year's entering class represents a group of American undergraduate institutions that include Harvard University, the University of Chicago, Dartmouth College, Washington University, Columbia University, and more.
Eight new students are beginning the Clinical Psychology PhD program. They will spend six years at Feinberg for training in the clinical practice and science of psychology, along with specific training needed for careers as clinical psychologists conducting research and/or clinical work in academic medical centers or other health care settings. Students in this year's class come from U.S.-based institutions ranging geographically from Maryland to California.
The Doctor of Physical Therapy-PhD program welcomes three new students to Feinberg for a seven-year term. Students will spend their first year doing three laboratory rotations starting in the winter quarter and required engineering graduate course work.
Finally, three new students join the HSIP program to become its second entering class. Founded in 2012 and unique to Northwestern, HSIP trains students in processes and methodologies in clinical and population sciences through the Institute for Public Health and Medicine. The class of 2013 comes from New York, Michigan, and Indiana, and all have previously earned master's degrees.
Congratulations to all the new PhD students in these programs:
Driskill Graduate Program in the Life Sciences
Mallory Agard   
Kelly Bennett    
Patricia Brazee 
Meredith Chase              
Jessie Chen       
Debra Chin
Virginia Chu       
Daniel Cook       
Matthew Dapas               
Stephanie Fairbairn        
Sara Garcia Moreno       
Lidija Gorsic       
Ann Hogan         
Anthony Leonardi
Maureen McNulty      
Kylee Morrison
Kevin Murnan  
Carolina Pusec  
Krithika Ramachandran
Jeremy Ritzert  
Nakisha Rutledge            
Isabella Salamone           
Christie Sze        
Stephanie Van Gulden 
Rajita Vatapalli 
Tania Velez        
Yuanming Xu     
Zhou Zhang
Northwestern Interdepartmental Neuroscience Program
Michael Adoff
Tomas Adreani 
Oscar Arenas    
Spencer Brown
Long Chen
Brittany Edens  
Alejandra Garcia              
Dustin Goncharoff          
Anant Jain          
Han Jiang            
Asha Lahiri         
Jordan Manes  
Amurta Nath     
Aneesha Nilakantan      
Maria Nguyen  
Arin Pamukcu   
Su Hong Park    
Brad Randall      
Emily Reedich   
Aarthi Subramanian       
Clarissa Valdez 
Yewen Yin          
Medical Scientist Training Program
Frank Barrows
Adam De Jesus
Patrick Donahue
Maxwell Ethan Edmonds
Timothy Feliciano
Suvai Gunasekaran
KuangHua (Karl) Guo
Stephen Edward Henrich
Jonathan Balquiedra Lamano
David Shapiro
Sripadh Sharma
Brian Soetikno
Clinical Psychology PhD Program
Jamie Barstein
Alexandra Apple
Jennifer Eastman
John Fleming
Nancy Jao
Tatiana Karpouzian
Rebecca Mullen
Faith Summersett-Ringgold
Doctor of Physical Therapy/PhD Program
Rebecca Abbott
Stephen Antos
Emma Baillargeon
Health Sciences Integrated PhD Program
Philethea Duckett
Gayle Shier
Tim Herr