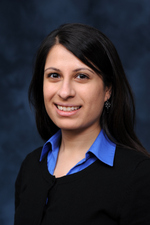 As scientists continue to uncover the role that genetics play in adult obesity, their link to the distribution of fat in newborns is also garnering attention. 
"Genome-wide association studies have identified numerous genes associated with obesity in adults, but the impact of these genes on a newborn's size and adiposity is not well established," said Reeti Chawla, MD, a second-year pediatric-endocrinology fellow. "There is a lot of data that shows that the intrauterine environment influences newborn birth weight and later risk of obesity, but we also know there is a genetic component to obesity. Infants that are born large for gestational age are at increased risk for childhood and adult obesity. We suspect that the genes that contribute to adult obesity may also contribute to the distribution of fat, or adiposity, in newborns." 
Chawla looked at data on newborns collected from the Hyperglycemia and Adverse Pregnancy Outcome (HAPO) Study, a project that looked at levels of maternal glucose tolerance and risk of adverse pregnancy outcomes, and included some 23,000 women from nine countries. She tested her hypothesis by assessing whether certain DNA variations – single-nucleotide polymorphisms, or SNPs – in gene regions associated with adult obesity were associated with birth weight and skin fold thickness among HAPO newborns.
"We were pretty successful and found a number of different SNPs, nearly 150, associated with newborn birth weight or skin fold thickness." said Chawla, who presented the preliminary data on June 18 at the Endocrine Society's annual meeting in San Francisco. "The goal behind identifying these SNPs is to find genetic variations associated with the distribution of fat in newborns and to create a genetic risk score to help predict newborn adiposity. 
"We're still refining our work, but some preliminary data show that when we grouped these SNPS together and looked at them in newborns, they do predict birth weight and skin fold thickness." 
Chawla, who earned the top clinical research prize at the medical school's Ninth Annual Lewis Landsberg Research Day, is excited that this work may someday translate to the clinic.   
"If we're able to identify which newborns are at risk for increased fat at birth and potentially obesity later in life, then we might be able to make interventions early on to help them," she said. "I am so fortunate to be working with the HAPO group and have access to a lot of excellent data. William Lowe, MD, vice dean of academic affairs, and M. Geoffrey Hayes PhD,  assistant professor in medicine-endocrinology, have been great mentors and I have learned a great deal from them." 
More than one-third of American adults are obese, according to the U.S. Centers for Disease Control and Prevention. Being overweight and obese increases the risk of many types of health problems, including heart disease, diabetes, stroke and some cancers. 
Chawla's research is funded by the American Diabetes Association and National Institutes of Health with support coming from the HAPO Research Study Cooperative Group, the GENEVA Coordinating Center, the Broad Institute of the Massachusetts Institute of Technology, Harvard, and the Johns Hopkins University Center for Inherited Disease Research supported the study.