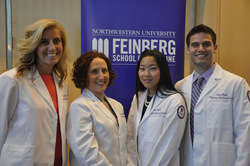 For Lauren Fowlkes, a first-year physician assistant student, the white coat represents the hard work and dedication that she put into earning a seat in the Physician Assistant (PA) Program Class of 2015.
"It also symbolizes the start of a journey," Fowlkes said. "The journey to graduation and to many years of making a difference in the lives of patients as a practicing physician assistant." 
Fowlkes, one of 30 new students, received her coat during a welcome ceremony on Friday, June 7. The event marks the beginning of their first year as physician assistant students.
James Van Rhee, MS, PA-C, director of the PA program, opened the ceremony by welcoming friends, family, faculty, and staff. He turned the program over to Brittany Johnson, a second-year physician assistant student and president of the Class of 2014. She shared advice for the incoming class.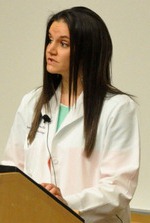 "Take advantage of this opportunity that is presented to you," Johnson said. "Don't let emotions, stress, or this new situation dictate your success. Wear your white coats with humble confidence, with the humility of a student, but also with the confidence of a teacher. While you are navigating through each new opportunity and blasting through all of the new struggles of simultaneously learning and teaching this year, please remember that the tough times will never last, but the tough people will."
Liz Roe, MS, director of constituent organization outreach and advocacy at the American Academy of Physician Assistants, gave the keynote address.
"In making the decision to become a PA, you will become a leader and pioneer in this brave new world," she said. "You are indeed entering a dynamic profession at a time of tremendous change in healthcare."
Roe shared stories of notable physician assistants and her career as a lobbyist for laws regarding the field. 
"It is my hope that you will find your passion as I have, and that you will be that person in the white coat for someone like me and my family," Roe said. "My congratulations to you and best of luck on this important day."
Faculty advisors then bestowed each new member of the PA program with their first white coat, and Van Rhee led the class in the recitation of the Physician Assistant Student Oath.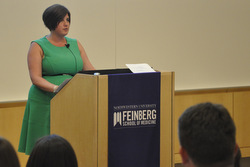 The Class of 2015 includes students from nine states and 20 undergraduate institutions, and boasts 20 undergraduate majors from biology and mechanical engineering to philosophy and Spanish. Six students hold advanced degrees. Entering class members join Feinberg with extensive clinical experience, with the average number of clinical hours per student exceeding 4,000.
The two-year program features lecture, small group discussion, clinical experiences, team-based learning, and problem-based learning. The clinical year consists of seven required rotations and a vast number of possible electives.
"It's an honor to receive this white coat. It marks the beginning of a journey to become responsible and compassionate physician assistants," said JoAnn Shih, a first-year physician assistant student. "I am also excited that the program is situated on the same campus as some of the nation's best hospitals, which will be an invaluable resource during our clinical year."