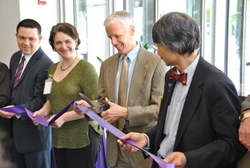 Community partners and University leaders joined students, staff, and faculty on Wednesday, May 15, to celebrate the official launch of the Center for Community Health (CCH). 
Part of the Institute for Public Health and Medicine (IPHAM) at Northwestern University Feinberg School of Medicine, the CCH is constructed to catalyze interaction between scientists and the community in an effort to integrate public policy and population health. 
"The CCH offers a bold new vision for engagement that will enable Northwestern to emerge rapidly as a national epicenter for research that improves the health and healthcare of Chicago and beyond," said Ronald Ackermann, MD, MPH, associate professor in general internal medicine and geriatrics and medical social sciences, and director of the center. "The CCH will provide a home for community-engaged research activities at Feinberg and help to develop innovative solutions and research that has a lasting and measurable impact." 
Keynote speakers Giselle Corbie‐Smith, MD, MSc, professor of social medicine at the University of North Carolina‐Chapel Hill, and the Reverend Danny Ellis, PhD, MBA, president and CEO of Ellis Research and Consulting Service LLC and executive director of Transforming Lives Inc. (TTL), offered their insight on the building, balance, benefits, and bruises of community-based participatory research. The two are part of a successful translational research partnership between UN-Chapel Hill and TTL that has lasted more than a decade and helped thousands of individuals.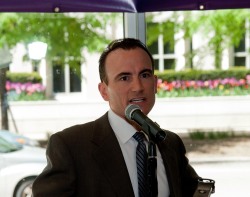 "Researchers must change their perception, perspective, and prescription when entering a community," said Ellis, who started TTL in 2005 with the vision of reducing preventable death and disease in Halifax County's African‐American population. "Remember that you are here to capture and tell the story, you are not the story. It needs to be about the community if you are going to be successful." 
After speaking for 45 minutes before a crowd of 200 inside the Hughes Auditorium, Ellis and Corbie-Smith answered audience questions before event participants moved into the Ryan Family Atrium for a ceremonial ribbon-cutting. 
Introduced by Ackermann, William Lowe Jr., MD, vice dean for academic affairs, discussed the center's place within the larger Feinberg community. 
"If academic health centers are going to be successful in creating new knowledge and, more importantly, ensuring that that knowledge successfully moves into the everyday lives of its residents, new solutions will be required in both healthcare and community settings," Lowe said. "The Center for Community Health will play an important role in achieving that goal." 
The CCH launch ceremony also included an introduction from Modesto Tico Valle, CEO of the nonprofit Center on Halsted, and Brian Mustanski, PhD, associate professor in medical social sciences, and remarks by Rowland Chang, MD, MPH, senior associate dean for public health and director of IPHAM, and Bechara Choucair, MD,MS, adjunct associate professor in family and community medicine and commissioner of the Chicago Department of Public Health. It also included the presentation of the second-annual Alliance for Research in Chicagoland Communities (ARCC) Community-Engaged Research Partnership Award to South Asian Healthy Lifestyle Initiative.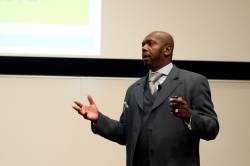 In its brief history, the CCH has already engaged almost 200 community and healthcare partners throughout Chicago and supports more than 60 faculty members from 22 different divisions, departments, and schools. Building upon community engagement resources that were forged over the past five years, the CCH will collaborate with IPHAM, the Northwestern University Clinical and Translational Sciences Institute (NUCATS), and others to enhance existing research teams and stimulate new areas of work. 
"Healthcare cannot fully address the health needs of communities in isolation," Ackermann said. "The CCH will engage Northwestern investigators with a broad array of community partners to develop and support programs of research that create, evaluate, and disseminate solutions at the interface of healthcare and society."    
In concert with both IPHAM and NUCATS, the CCH and two of its programs, ARCC and the Practice-Based Research Program, offer technical assistance, seed funding, data for planning research, project development space, grant-writing assistance, pre- and post-award administrative services, and support in the areas of partnership building, diverse research participation, intervention delivery, data collection, retention, analysis, and dissemination of findings to all stakeholders.
A scientific poster session featuring more than 60 projects concluded Wednesday's event. 
"Northwestern has long valued community engagement as a part of our educational curricula and clinical services, but we now need to move forward even more aggressively in engaging communities in our research by creating bi-directional information flow," Lowe said. "We need to engage and establish new collaborations with the community, and the Center for Community Health will help to achieve that goal by providing expertise in research methods and study design and by helping to attract additional funding to catalyze those efforts."