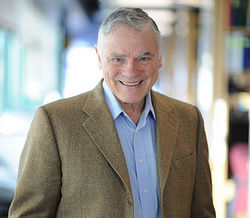 Leroy Hood, MD, PhD, president and co-founder of the Institute for Systems Biology, professor of molecular and cellular biology at the University of Washington, and affiliate professor of microbiology and immunology at University of British Columbia, presented "Systems Medicine and P4 Medicine: Transforming Healthcare" on Monday, May 13, in the Hughes Auditorium of the Robert H. Lurie Medical Research Center of Northwestern University. 
Eric G. Neilson, MD, vice president for medical affairs and Lewis Landsberg Dean, introduced Hood.
"Leroy Hood is a pioneer in the systems approach to biology and medicine. His research has focused on the study of molecular immunology, biotechnology, and personalized medicine," he said. "A pillar in the biotechnology field, Dr. Hood has played a role in founding more than 14 biotechnology companies."
Hood is best known for developing the DNA gene sequencer and synthesizer and the protein synthesizer and sequencer – four instruments that paved the way for the successful mapping of the human genome.
His presentation focused on how biotechnology will revolutionize medicine. He said that we should expect the current way of practicing medicine – waiting until the patient is sick before responding – to be replaced by a personalized, predictive, preventive, and participatory (P4) medicine that will focus on wellness. He argued that P4 medicine will improve healthcare, reduce the costs of healthcare, and promote innovation.
"P4 medicine differs from evidence-based medicine in a number of ways. It is proactive, it is focused on the individual, it is focused on wellness, and it is focused on the generation [of care]for each individual," said Hood.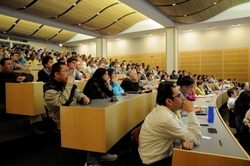 He added that he thinks there will be enormous economic opportunities in P4 medicine.
"In a 10 to 15 year period, wellness will be a much bigger business than healthcare will be. The wellness industry is just getting started today. The companies who do wellness well today are going to be giants in the future," Hood said. "I think Northwestern has an enormous opportunity in this particular area, with the wealth of biology and technology that you have here, and I think it is a wonderful time to figure out how you can become a leader and not just a follower in P4 medicine."
Hood is a member of the National Academy of Sciences, the National Academy of Engineering, and the Institute of Medicine, and he is one of only 15 people accepted to all three.
A member of the American Philosophical Society and a fellow of the American Academy of Arts and Sciences, Hood is the recipient of numerous awards, including the Lasker Award for Studies of Immune Diversity, the Kyoto Prize in advanced technology, the Heinz Award for pioneering work in systems biology, and, most recently, the coveted NAE 2011 Fritz J. and Delores H. Russ Prize.
His work has been widely published, and he has coauthored numerous textbooks in biochemistry, immunology, molecular biology, and genetics, as well as a popular book on the human genome project, The Code of Codes.
In addition to having received 17 honorary degrees from prestigious universities in the U.S. and abroad, Hood has published more than 700 peer-reviewed articles and currently holds 36 patents.