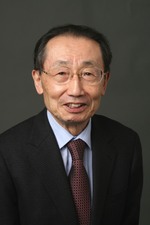 Toshio Narahashi, PhD, John Evans Professor of Pharmacology and former chair of the department, has lost his battle with cancer.
Known as a leader in neurotoxicology and the father of cellular neuropharmacology, Narahashi is being remembered for his dedication to mentoring, scientific accomplishments, and well-developed sense of humor. A memorial service is scheduled for 3-6 p.m. on Friday, April 26, inside the Canning Auditorium on the third floor of Prentice Women's Hospital.
A postdoc of Narahashi's at Duke University from 1971-74, and faculty member at Feinberg while Narahashi was chair, Jay Yeh, PhD, professor in molecular pharmacology and biological chemistry and anesthesiology recalls the professor fondly.
"We worked closely on many projects over the past 40 years," Yeh said. "But he was more than just my colleague, he was also my mentor and good friend."
In March, many of the people whose careers have been touched by Narahashi attended a symposium to honor him for his contributions to pharmacology. His research interests in the field ranged from therapeutic drugs, natural products, insecticides, and toxins. At the event, William Lowe Jr., MD, vice dean of academic affairs, presented him with a plaque honoring his accomplishments during six decades as a scientist.
"Dr. Narahashi has had a major impact in our understanding of the biology of ion channels and throughout his career he trained many individuals who are now having their own impact on the fields of neuropharmacology and neurobiology," Lowe said. "The ceremony brought together many of Dr. Narahashi's previous trainees to discuss their shared experiences, his more recent scientific explorations, as well as his impact on their career development."
A Groundbreaking Career
After graduating from the University of Tokyo in agriculture in 1948, Narahashi started his scientific career studying insecticides in a laboratory of applied entomology. Using primarily homemade electrophysiological equipment, he made four important discoveries, leading to 26 published papers and a PhD in 1960.
He came to the United States as a postdoctoral research associate at the University of Chicago in 1961 and accepted a faculty position as assistant professor at Duke University Medical Center in 1963. Through his 12 years at Duke, Narahashi established himself as a leader in neurotoxicology and became known as the father of cellular neuropharmacology.
While at Duke, he discovered the highly-potent and specific blocking action of tetrodotoxin, puffer fish toxin, on the sodium ion channel. Ion channels in the nervous system are important target sites for a variety of therapeutic drugs and toxicants.
Narahashi joined Feinberg in 1977, assuming the chairmanship of the Department of Molecular Pharmacology and Biological Chemistry. During his 17 years as chair, he continually upgraded the department as it became one of the most active in the country.
Over the years, Narahashi received numerous society awards, including the first Distinguished Investigator Lifetime Achievement Award in Neurotoxicology from the Society of Toxicology Neurotoxicology Specialty Section (2001), Honorary Member of the Japanese Pharmacology Society (2002), and the Distinguished Toxicology Scholar Award from the Society of Toxicology (2008). He published 324 original papers, 148 chapters and reviews, 376 abstracts, and edited 11 books. He also trained more than 140 professionals, postdoctoral fellows, and graduate students. In the weeks before his passing on Sunday, April 21, he said that retiring had never come to mind.
Narahashi is survived by his wife of 59 years, Kyoko; son, Taro; daughter, Keiko; son-in-law, Peter Belamarich; grandson, Micah, and a granddaughter, Joy.