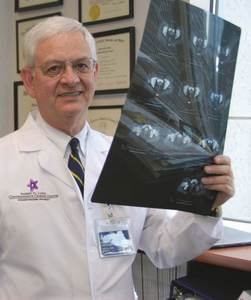 For years, William Catalona, MD, professor in urology, has worked to discover and validate many of the first genes associated with a person's susceptibility to prostate cancer. 
Now, a new collaborative effort published in Nature Genetics is verifying the benefits of whole genome sequencing in that pursuit. 
Whole genome sequencing provides scientists with a complete picture of a person's genetic code, as opposed to the more commonly used targeted sequencing, which focuses on a specific region. This additional genetic information may help physicians uncover treatment options that would work best for an individual patient. Although the cost of whole-genome sequencing is significantly more than targeted sequencing, investigators believe this gap will shrink as the technology continues to improve. 
"Genetic variants provide important insights into the fundamental causes of prostate cancer, especially its aggressive forms," said Catalona. "In this regard, whole genome sequencing will help to identify the cell signaling pathways involved in the development and progression of prostate cancer. It will also be useful in developing new biomarkers, like blood tests, for identifying men who should undergo prostate cancer screening." 
Brian Helfand, MD, PhD, adjunct assistant professor in cell and molecular biology, a urologic oncology fellow at the time of the study, co-authored the publication that is among the first to use whole genome sequencing to discover new germ-line genetic variants associated with susceptibility to prostate cancer.  
Validated in patient populations at Northwestern as well, the study went far beyond previous whole-genome sequencing studies involving only a few patients. It analyzed 32.5 million variants in 1,795 Icelanders. 
The extensive effort proved fruitful, identifying a new variant – 8q24 – associated with a three-fold risk of prostate cancer in Caucasian populations.
"Most previously discovered risk variants only increase the risk by five to 30 percent," said Catalona, director of the Clinical Prostate Cancer Program at the Robert H. Lurie Comprehensive Cancer Center of Northwestern University. "Using standard genotyping methods, this variant had not been discovered. The study was also able to confirm another recently described variant – HOXB13 – that is important in familial and non-familial prostate cancer." 
Focused on understanding the genetic underpinnings of prostate cancer that can be translated to patient care, Catalona's clinical research database is largely funded by the Urological Research Foundation and various grants from the National Institutes of Health and Northwestern Memorial Hospital. 
"This research is important because the men who carried this new, rare variant were diagnosed with prostate cancer at a younger age," Catalona said. "The hope is that this research could provide potential new targets for pharmaceutical manipulation in the treatment or prevention of prostate cancer in general."