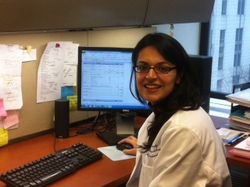 Amisha Wallia, MD, MS, GME'08, instructor in the Division of Endocrinology, Metabolism and Molecular Medicine, realized the impact she could make if she added research to her career goal of becoming a physician.
"When I started my residency, I thought I would follow in the footsteps of my parents and become a clinical physician, likely a clinical endocrinologist," Wallia said. "I had such a positive research experience during my residency and fellowship and I really loved my mentors, which inspired me to continue on that path instead. My research team and I were lucky in that we were successful from the beginning and had research findings that directly informed our current care."
As a second-year internal medicine resident, Wallia teamed up with Mark E Molitch, MD, professor in endocrinology, metabolism, and molecular medicine, Neehar Parikh, MD, co-resident, and Josh Levitsky, MD, associate professor in medicine-gastroenterology and hepatology and surgery-organ transplantation, to conduct a collaborative study examining the effects of hyperglycemia on long-term outcomes following liver transplant. The study retrospectively concluded that those who had poor glycemic control immediately following transplant had higher rates of rejection long term. In addition, a subgroup analysis showed that establishment of a glucose management service improved glycemic control and decreased infection rates in this population.
Wallia continued her research as a fellow examining the safety and efficacy of intensive glycemic control post-liver transplant. Now as a member of the faculty, Wallia would like to use the transplant population as a platform to study other groups who are at risk of diabetes.
To this end, Wallia has expanded her network to collaborate with Jane Holl, MD, MPH, director of the Center for Healthcare Studies, and the Northwestern University Transplant Outcomes Research Collaborative, led by Daniella Ladner, MD, assistant professor in surgery-organ transplantation.  Wallia plans to work with the transplant teams to improve healthcare quality and patient safety as it relates to post-transplant diabetes care.
Long term, Wallia hopes to apply what she has learned about potential barriers to care to other high-risk subgroups, such as the elderly or those with steroid-induced diabetes, to help improve their outcomes.
"I am glad I pursued the path I did," she said. "The nurturing community made it easy to succeed and I remain in contact with a lot of physicians I had exposure to as a resident. Now it is great to be on the other side and help develop resident projects when they are in the early stages of their own research."