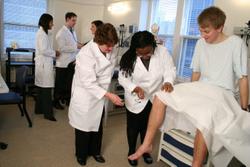 The Northwestern University Feinberg School of Medicine Physician Assistant (PA) Program is a two-year graduate program that awards students a Master of Medical Science degree.
The program accepts 30 talented students each year — individuals with undergraduate majors that span biology and chemistry to history and nuclear medicine technology. PA students spend half of the 24-month program learning through hands-on training at seven clinical rotations throughout Chicago. During the clinical year, students focus on internal medicine, family practice, psychiatry, pediatrics, general surgery, women's health, and emergency medicine.   
Growing up in Chicago, Francis Lorenzi had always thought of Feinberg as an innovative medical school.
"When I found out that Northwestern had a PA program, I was ecstatic," said Lorenzi, a first-year student. "It was the environment that the staff and students created at the interview that made me want to come here. Everyone was so welcoming and excited about the program – they really made me feel at home."
Since starting the program, her favorite experience has been working with her preceptor and seeing hospital patients.
"Every time that I've gone, it has been such a great experience," she said. "I have learned so much from the patients I've seen and am so lucky that as first-year PA students we get to interact with hospital patients. Our preceptors have been so helpful and really prepare us for what it's like to be a PA."
When they're not in the clinic, students spend approximately 25 hours per week in the classroom. The program includes lectures, which ensure students become competent consumers of medical literature and research, and centers around an innovative curriculum involving problem-based learning (PBL).
"PA students collaborate in small groups and work through real clinical cases to learn the medical skills needed to take care of patients," said James A. Van Rhee, MS, PA-C, director of the PA program. "Through this method, students develop lifelong learning and clinical reasoning skills that they will need for clinical practice."
First-year PA student and class president Brittany Johnson describes her appreciation for the PBL curriculum.
"We are consistently held accountable three days every week to enhance interpersonal communication and problem-solving skills, in addition to mastering the classic lecture-based course work," she said. "In the Physician Assistant Program, our training extends beyond the memorization of medical information.  We are taught not only how to succeed on difficult written tests, but more importantly and most relevantly, we learn how to break down, think through, and conquer complicated clinical situations."
As class president, Johnson organizes class service projects, group lunches, and intramural activities. She also speaks at "Physician Assistant Day," a day commemorating the profession, and the white coat ceremony, which welcomes the entering PA class. Outside of the PA program, Johnson participates in student groups such as the Catholic Medical Student Association, has attended grand rounds at the Ann & Robert H. Lurie Children's Hospital of Chicago, and mentored high school students.
"The Physician Assistant Program allows not only for significant intellectual growth, but provides countless options to foster personal growth through community service and interaction," she said.
To learn more about the PA program, please visit their website.