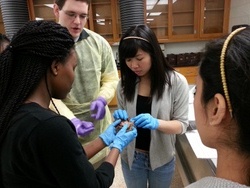 On Saturday, February 16, high school and college students held a poster session and reception as a conclusion to the 9th annual Health Professional Recruitment and Exposure Program (HPREP) at Northwestern University Feinberg School of Medicine. For the past six-weeks, the participants attended ethics sessions and anatomy classes, and explored problem-based learning cases in addition to doing a research project and meeting weekly with a medical student mentor.
The program, led and organized by members of the Latino Medical Student Association and the Student National Medical Association (SNMA), is supported by the Office of Diversity.
"This program reminds me of how appreciative I am to be in medical school," said Elizabeth Contreras, first-year medical student and program organizer. "Sometimes I'm busy and stressed out, and I forget why I am here. Meeting these excited, aspiring medical students reminds me that this is what I want and medical school is the only place I want to be."
Program organizers designed the curriculum, reviewed applications, and coordinated volunteers. Each year, leadership gets passed down to first-year medical students, who shape the program based on the previous year's participant feedback.
"Through HPREP, we want participants to get a better sense of what we do every day and use us as a tool to help them make a decision about medical school," said Renee Drolet, a first-year medical student and program organizer. "It is a self-discovery process. Is this really something they envision themselves doing?  Is a career in the health professions something they want to do?"
Each volunteer mentors a small group of participants every week and guides them through a research project. Contreras said students typically choose topics that they have experience with, either personally or through a family member, such as high blood pressure and diabetes.
"By researching a topic they are familiar with, students learn how diseases develop and about prevention. They then bring this information home to educate their families and communities," she said.  
Program participants are also eligible for financial aid or scholarships to the National Youth Leadership Forum in Medicine, a 10-day program run by Envision EMI, an organization focused on experiential education, which allows students to shadow physicians and learn about other medical specialties.
"Many current medical students who are members of the SNMA understand very well the challenges of preparing for medical school and nurturing their interest in medicine," said Sunny Gibson, director of diversity. "Programs like HPREP provide an opportunity for medical students to reach back and mentor students who may not otherwise have the resources."
The program was started in 2004 by Wendy Goodall McDonald, MD'07,  instructor of obstetrics and gynecology, and some of her fellow student leaders in SNMA. 
"Programs like HPREP are crucial to the ultimate goal of diversifying the physician workforce," said Gibson. "This ultimately leads to higher quality care for all and brings us closer to addressing disparities in health and health care. Medical students who serve as mentors are powerful examples and effective resources to young aspiring physicians."