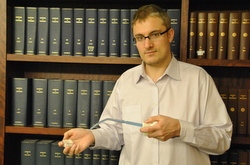 The Center for Device Development (CD2) is launching a new fellowship opportunity this summer in an effort to bring entrepreneurial experience to those with innovative minds. 
The yearlong program provides participants the chance to develop or improve on medical devices while learning from mentors and through a series of real-world experiences. 
"This fellowship is unique in that it includes support from the school of engineering, Feinberg, Northwestern Memorial Hospital, and the Innovation and New Ventures Office (INVO)," said Maryam Saleh, PhD, who leads the device initiative at Northwestern and is the invention manag­er at INVO. "This collaboration brings a lot of expertise to the program, giving fellows access to resources which allow them to shadow doctors at the medical school and observe patient needs, develop their devices at the Robert R. McCormick School of Engineering and Applied Science, and even test their devices in cadaver labs when necessary." 
The CD2 paid fellowship will pair an engineer and medical resident or fellow. The team will work to identify a need before building a case for the device, designing it, applying for patents, and eventually pitching the idea to investors. Projects will begin in July.
"We have found that the barriers to moving an idea from the theoretical to the concrete are often time to develop it and expertise in generating capital based on a sound business plan," said David Mahvi, MD, chief of gastrointestinal and oncologic surgery. "These fellows will interact directly with Feinberg faculty members, have the time to grow ideas, and be provided the necessary training to commercialize their products."
The CD2 fellows will interact with mentors and a variety of industry experts, including venture capitalists, regulatory strategists, reimbursement specialists, and medical device company executives, all of whom will help vet ideas and provide advice on developmental strategies. Final selection of fellows will be announced by March 1.