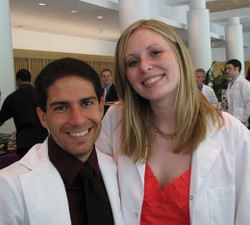 When third-year Doctor of Physical Therapy (DPT) students Erin Murray and Jeffrey Martini touched down in Belize this December, they opened a door to global opportunity. 
Taking part in the first Department of Physical Therapy and Human Movement Sciences (PTHMS) international learning experience, the pair isn't just participating in a three-week pilot program at Hillside Health Care International, they also represent the culmination of a project started two years earlier. 
In April 2010, Nora Francis, PT, DHS, assistant professor in PTHMS, had the opportunity to attend a faculty and staff retreat about international program development. At the retreat, she heard a presentation about Northwestern University Alliance for International Development (NU-AID), and decided to see if DPT students would be interested in a global health opportunity. 
"I was so impressed by NU-AID, a medical student-driven organization whose mission is to provide primary medical care to rural populations in Latin America and Jamaica, that in the fall trimester Antoinette Sander, DPT, and I proposed a project to the Class of 2013," Francis said. "We asked if any students would be interested in exploring the feasibility of an international exchange program focused on physical therapy in developing nations. There was enthusiastic support and six students took on the project, which I believe was the key to its success." 
Murray and Martini were two of those students. In Belize they will have the chance to work on verbal and non-verbal cross-cultural communication while demonstrating effective problem-solving and critical-thinking skills across cultures. During their time at Hillside Health Care International, which already has an affiliation with the Northwestern University Feinberg School of Medicine's Center for Global Health, the duo will be working with an American-trained physical therapist, providing rehabilitation services to rural residents. 
"I have always wanted to volunteer abroad, and I am very happy to have the opportunity to practice my physical therapy skills, promote disability awareness, and learn more about the international healthcare system," Murray said. "I am also very excited to be able to pilot this program so that in the future more Feinberg physical therapy students have the opportunity to participate in an international health experience."  
The six students leading the effort did so as part of their required synthesis project, a research-based assignment similar to a research project, under the mentorship of one or two professors. 
"We conducted a needs assessment to determine whether there was interest in developing international opportunities for DPT students, and during that time we reached out to several potential community partners, including Hillside Health," Martini said. "They expressed interest in having some of our students participate in a rotation this year, so Erin and I will be there for three weeks."
Both students remain excited to learn new practical skills in an environment with different resources, while getting a feel for what international health is like and learning about the Belizean people and their culture. 
"The idea of international learning is one that we have had for quite some time and so we started looking into a number of opportunities with the help of Dan Young at the Center for Global Health, who explored existing connections, like the one in Belize," said Jules Dewald, PT, PhD, chair of the PTHMS. "These opportunities are a great way to give our students a more universal level of science beyond physical therapy."