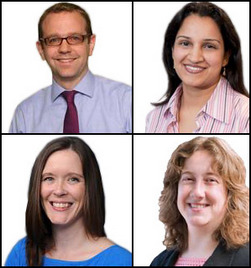 Four faculty members at Northwestern University Feinberg School of Medicine received Augusta Webster Faculty Grants for Educational Innovation, which support multi-year, health-profession education projects.
"The Augusta Webster Grants for Educational Innovation have been our most important source of intramural funding for medical education research for two decades now, and have helped launch the scholarly careers of over two dozen of our junior faculty," said Ray Curry, MD, vice dean for education and head of the program, adding that past projects have yielded new courses and teaching strategies, and a number of advances in educational assessment. 
This year's winners include:
Each faculty member is funded for substantial multi-year projects representing an opportunity for career development. The investigators propose projects that address current issues and/or challenges in medical education. Support for projects ranges from $5,000 to $15,000 annually, for a period of one to three years.
A subcommittee of the Feinberg Academy of Medical Educators evaluates proposals. All fellows receive a senior faculty mentor to monitor the progress and outcomes of the project.
"I was very excited to be chosen," said McBride.  "I see this fellowship as an incredibly important opportunity to start my investigation."
McBride plans to use the award to support a project that utilizes simulation to assess teamwork and medical decision-making in the pediatric cardiac intensive care unit. The teams will perform in their typical role during an acute, critical event, while their decisions, communication, and behaviors are observed and assessed. These assessments will be used to determine the validity and reliability of a novel teamwork assessment tool. 
"The Augusta Webster fellowship is the perfect opportunity for a junior faculty member to get their academic career jumpstarted," McBride said. "The data gathered and lessons learned will enable me to advance my teamwork assessment project, apply for additional funding, and improve clinical care of infants and children in critical situations."
"I'm proud and honored to receive an Augusta Webster fellowship," said Schaefer. "In the past few years I've been fortunate to participate in medical education research funded by these awards. To receive a fellowship myself means I'm carrying on the tradition of medical education scholarship here at Northwestern."
Schaefer's project aims to change the way faculty teach physical exams. He hopes to answer questions such as: Is there a "trickle-down" effect on medical students if the curriculum given to faculty changes? Will medical student cardiac exam knowledge improve if we augment the knowledge of faculty working with students?
"This fellowship is important to me because it will lead to the fruition of this medical education research project, and in so doing grant the experience to begin other education projects," he said. "Once a single funded research project is completed, perhaps others will follow. In such a way, this August Webster fellowship plays a key role in the development of my medical education research career."