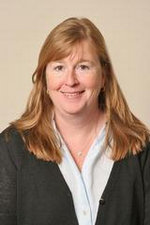 A new division within the Department of Surgery at Northwestern University Feinberg School of Medicine will bring a more autonomous approach to an area already recognized as unique within the medical center.
Launched on September 1, the Division of Breast Surgery is led by Nora Hansen, MD, associate professor of surgery. 
"I am truly honored to be named the chief of the new Division of Breast Surgery," Hansen said. "Because there are so many women diagnosed with breast cancer each year, and countless more who have benign issues, it is important to introduce our medical students and residents to the field of breast surgery and for them to understand how to manage these complex situations. Our group at Northwestern Memorial Hospital will continue to strive to not only offer excellent clinical care for our patients, but to continue to pursue opportunities to further breast cancer research."
Ongoing research efforts regarding the means of preventing breast cancer, early diagnosis of breast cancer, treatment strategies, and new nanotechnological approaches to diagnose and treat the disease will take place within the division. The labs of Jacqueline Jeruss, MD, PhD, assistant professor in surgery, and Seema Khan, MD, Bluhm Family Professor of Cancer Research, will lead those specific research efforts. Karl Bilimoria, MD, assistant professor in surgery and medical social sciences, will also work with the division to investigate outcome data in breast disease patients.
"Dr. Hansen has exhibited great leadership throughout her career and this new division is a way to recognize that by providing the authority and responsibility that comes with being a division chief," said Nathaniel Soper, MD, Department of Surgery chair. "With Prentice Women's Hospital, virtually all of the activities of this division will happen in one place. Because it is a very separate organization in many ways, the idea is to provide separate leadership."
Hansen is a national leader in breast cancer research and treatment and director of the Lynn Sage Comprehensive Breast Center, where she supports ongoing investigations into the causes and treatments of breast disease. She received her medical degree from New York Medical College in Valhalla, New York, before completing a general surgical residency and fellowship in surgical oncology at the University of Chicago.
After completion of her training, Hansen spent a year as an assistant professor of surgery at Feinberg before spending eight years at the John Wayne Cancer Institute in Santa Monica, California, where she was the associate director of the Joyce Eisenberg Keefer Breast Center. She returned to Feinberg as an associate professor of surgery in 2005.
"It was a major accomplishment to be able to recruit Nora back to Feinberg," said Soper, Loyal and Edith Davis Professor of Surgery. "She came on board to lead the breast cancer specialty and during her time here, the volume of surgery has grown, the research effort has grown, and she has been instrumental in establishing the collaborative and comprehensive treatment of women with cancer and other diseases. Nora is one of those very collaborative people who make this unique effort work."
Hansen is a fellow of the American College of Surgeons and holds memberships and committee positions in many national surgical and surgical oncology associations. She has been published more than 50 times and has authored nine book chapters.