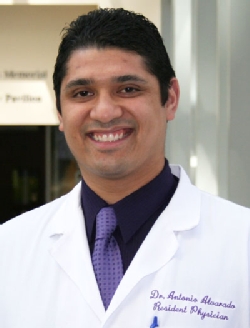 A third-year resident, Antonio Alvarado, MD, has a drive to increase access to transplantation for dialysis patients, especially in underserved communities. He became interested in underserved populations while spending time in community clinics in medical school. Alvarado continued his interest in community health after starting his residency at McGaw Medical Center of Northwestern University, and sees patients at a community health clinic in the Ukrainian Village neighborhood of west Chicago.
"It is really rewarding to treat the patients at the community clinic. In terms of healthcare, they don't have very much," he said. "There is a lot of overlap between community health and nephrology. I work with patients who are on dialysis and don't have access to transplantation."
Alvarado hopes to expand the nephrology clinic where he volunteers in order to enhance the access and quality of care for dialysis patients.
"I am taking my experiences in a primary care setting and blending them with what I learn in nephrology," he said. "Nephrology combines my interests. It's complicated, it's rewarding, and it gives you the chance to work with all different sorts of populations. The goal for me is to get people off dialysis and give them a better quality of life."
In addition to his involvement in community clinics, Alvarado works on research projects. One project seeks to find a better immunosuppression therapy, or a drug therapy regiment that won't have long-term toxic health effects on transplanted kidneys. Another project analyzes the different types of access patients have for dialysis treatment and how to collaborate with other departments, such as vascular surgery, to improve long-term care.
"I have had an amazing experience here. Northwestern is supportive in providing you with opportunities in your interests and connecting you with mentors that move those interests along. I think one of the things unique to Northwestern is the balance of work with other activities. For instance, I still have time to do research," he said.