In a rural primary care clinic in Puerto Escondido, Mexico, Krutika Lakhoo, a fourth-year medical student at Northwestern University Feinberg School of Medicine, pretends to be pregnant, while Teresa Gomez, a second-year and MPH student, acts as her midwife. The pair is role-playing, teaching 40 parteras, or midwives, the necessary steps to take for a healthy labor and delivery.
The parteras participated in a week-long course planned and taught by Feinberg students. This trip was a service trip through NU AID, a student organization devoted to international development.
"We each developed presentations in Spanish regarding pregnancy, care of a pregnant woman, labor and delivery, and care of the newborn as well as developed interactive ways of teaching this material to the midwives. We also participated in skits to allow them to role-play a routine prenatal checkup and a normal delivery," said Lakhoo.
Last year, NU AID and Child Family Health International (CFHI), an organization that places health science students on global health education programs, partnered to provide a global health immersion program for second- and fourth-year Feinberg students.
Dan Young, MPA, associate director of Global Health Education, said the partnership is important because "CFHI uses their network of local health care providers in Mexico providing access to students who are interested in learning more about primary care and public health in resource-limited settings."
The international programs NU AID runs pair fourth-year medical students with rising second-year medical students, creating a unique training opportunity across medical school classes. This year, the students were able to independently plan a one-week health education curriculum for local midwives and organize their own recruitment and pre-departure preparation process.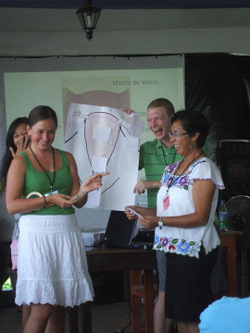 "The program is unique from other partnerships and programs that exist through the Center for Global Health since it is primarily a student-led initiative and also because most of our other global partnerships are with academic medical centers while CFHI is a grassroots nonprofit organization," Young said.
For one month during the summer, five M4s teamed up with five M2s to improve their medical Spanish, receive clinical training in rural and tropical medicine at primary care clinics, and learn about the public health system in Mexico. This year's program focused on maternal-child health. Students partnered with local midwives to learn about the healthcare challenges women in the Puerto Escondido community face. The students live in homestays to immerse themselves in the culture and to get to know some of the families.
During the first two weeks of the trip, students spent the day in a primary care clinic. The fourth-year medical students acted as mentors for the second-year students.
"We would coach them, give them tips, and ask additional questions to help them come up with a diagnosis for their patient's concerns. I also tried to review important concepts related to the physical exam, pharmacology, and pathophysiology to improve everyone's medical knowledge," Lakhoo said.
"I really enjoy teaching and mentoring," she continued. "Through the NU AID program I knew that I would be able to work with rising M2s and teach them core medical principles that hopefully would be useful to them as they went through medical school. I could also help teach them physical exam skills so they could be more comfortable seeing patients on their own."
In the third week, students prepared lectures and skits on different topics such as prenatal care, at risk and healthy birth, maternal nutrition, and family planning in addition to taking medical Spanish classes.
"When planning the lectures we made them interactive and hands-on, making the lessons more engaging," said Elaine Coldren, a second-year medical student. "They are treating a lot of the same things we are and with limited resources. It was interesting to learn about local customs, herbs and remedies, and massages they use to treat common symptoms in pregnancy."
Next summer, Coldren has big plans for the program. She is looking forward to continuing and growing the midwives training program in Mexico, while adding a second program site in India.
For more information, please visit the NU AID website.