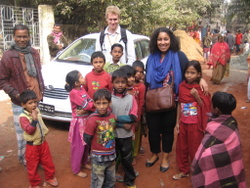 Riding down a river in rural Bangladesh, Jessica Queen knew that Vibrio cholerae was not just nearby, it was endemic.
For the sixth -year Medical Scientist Training Program (MSTP) student, the trip was not about the peril she might put herself in, but the opportunity to see a part of the world her research could someday change. 
"The fact that people are still suffering and dying from cholera is a travesty," Queen said. "Because the disease is transmitted through consumption of contaminated water, it is truly an issue of access. It is one of many infectious diseases that plague people who live in resource-poor areas, and would quickly cease to be a problem if millions of people weren't forced to drink, bathe, and relieve themselves in the same water sources."   
Queen, who has completed the first half of her medical education and spent the past four years working toward her PhD in the lab of Karla Satchell, PhD, associate professor in microbiology-immunology, is also the first author of a paper that appeared on the August cover of Infection and Immunity.  
That research demonstrated how neutrophils, the most abundant type of white blood cells, are important to contain cholera infections to the intestine. In the absence of these cells, infection spreads throughout the body to other organs, like the liver and spleen. Caused by the bacterium Vibrio cholerae, cholera results in watery diarrhea and vomiting that can lead to rapid dehydration, electrolyte imbalance, and even death.
"A big focus of cholera research is on designing better vaccines. However, before effective, safe vaccines can be designed, scientists need to better understand how the human body responds to infection," Queen said. "In this project, we wanted to study the response of the innate immune system, the body's first line of defense, to infection with the bacterium V. cholera."
As a student, Queen relished the chance to travel to Kolkata, India, at the end of 2011 to present her research to an international audience. The second half of her trip was spent in Dhaka, Bangladesh, visiting the International Center for Diarrheal Disease Research, Bangladesh, a research hospital where people suffering from diarrheal diseases can receive free care.
"It was really interesting for me to see an entirely unfamiliar culture and to get a first-hand look at the conditions that allow cholera to persist," Queen said. "As someone who is interested in studying and combating infectious diseases, this was an incredible experience for me and provided a lot of context to the things I've been studying in the lab."
The V. cholerae research appearing in Infection and Immunity is funded by the Burroughs Wellcome Fund Investigators in the Pathogenesis of Infectious Diseases Award, Ruth L. Kirschstein MD/PhD Training Grant F30DK084623, and National Institutes of Health grants R21 AI072461 and R01 AI051490.