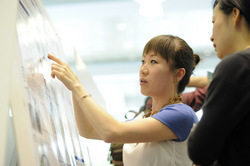 "As a physician-scientist myself, I always thought of MSTP [the Medical Scientist Training Program]as a special seat for advancing our scientific research," said Eric Neilson, MD, vice president for medical affairs and Lewis Landsberg Dean, as he gave the opening remarks at the program's 2012 student-faculty retreat. "From my perspective, the medical traditions and the work ethic of physician-scientists is one that reflects an authentic passion for human health."
The two-day overnight retreat, August 4-5, involved a combination of scientific and social activities in Lake Geneva, Wisconsin. The retreat offers an opportunity for students to present their work, and hear presentations from MD/PhD graduates and outside physician-scientists. Also, students participate in teamwork and community-building activities.
"This is a significant program event," said Becca Lamarre, MSTP program manager. "The MSTP is a seven to eight year program, and this weekend gives students in each stage of the program the opportunity to share work, build camaraderie, and enjoy an off-campus setting."
Keynote speaker, Daryl K. Granner, MD, professor emeritus of molecular physiology and biophysics and internal medicine at Vanderbilt University and professor emeritus of internal medicine at the University of Iowa, talked about the importance of the physician-scientist in the continuing advancement of medicine. Faculty speaker, Brian T. Layden, MD, PhD, assistant professor in endocrinology, discussed his career path as a physician-scientist.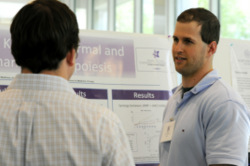 "It's inspiring to hear about the accomplishments and careers of the speakers," said Robin Skory, a third-year graduate student. "I can see what is five, 10, or 20 years ahead of where I am now."
Skory is currently interested in studying luteinization and improving in vitro ovarian follicle culture in the lab of Teresa K. Woodruff, PhD, professor in obstetrics and gynecology and endocrinology.
"The retreat is a good time to get a big picture of the whole program, and we get to engage with faculty in an informal setting," she said. "The relaxed environment allows us to get to know our faculty and mentors on a more personal level."
Another highlight of the weekend is the student research presentations.
"The retreat has a strong science component," said Ben Goldenson, a second-year graduate student and president of the MSTP Student Council. Goldenson joined the lab of John Crispino, PhD, professor in hematology and oncology, to conduct research focused on the transcriptional regulation of normal and malignant blood cell development. His main research interest is in using disease models to better understand the mechanisms of disease and develop more effective therapies.
"The student research presentations are an important part of the weekend. It is exciting to see what people are doing and to see the progress they have made over the year."­­­