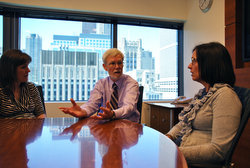 Open to investigators with all levels of qualitative research experience, a new collaborative group led by experienced researchers in the field, and sponsored by the Feinberg Academy of Medical Educators (FAME) and Faculty Affairs, is providing peer mentorship and dialogue on the topic.
Qualitative research methods include a wide range of approaches to gathering data that include surveys, focus groups, interviews, and observational studies. They are used extensively in many social science fields, particularly to understand complex human behaviors and interactions. 
"These methods also play an important part in studying teaching, learning, and educational innovation, as well as increasingly to study medical questions related to quality of life and decisions about medical care choices," said Rick McGee, PhD, associate dean for faculty recruitment and professional development. "At Feinberg, we realized that there is a growing group of educators and researchers who are using these methods or would like to learn how to use them in their work."
Monthly group sessions on the Chicago campus will cover a variety of topics that include software and analysis approaches, action research using classroom evaluation data, and discussion and feedback regarding current and future projects.
More than 50 investigators across both campuses have expressed interest in the group, with about 30 in attendance for the inaugural meeting on June 19.
"We invite faculty members well-versed in qualitative research to share their knowledge and expertise through informal presentations, workshops, or in guiding others in their qualitative research projects," said Sandra LaBlance, PhD, clinical research associate in Faculty Affairs. "For those who are interested in educational outcomes, qualitative research methods provide excellent opportunities for evaluating educational practices with the goal toward improvement of teaching and learning."
In early 2012, FAME made possible a series of workshops to advance faculty skills in education scholarship. From these, organizers of the qualitative research interest group, which include McGee, LaBlance, and Kenzie Cameron, PhD, MPH, research associate professor in medicine and preventive medicine, realized that many faculty members had an interest in, and could potentially benefit from, an organized group.
"We got the impression that there was quite a bit of interest but no way to bring people together, so the three of us got in touch with Jon Lomasney, MD, and FAME to suggest putting out a call to see if others would want to get a group together. This first meeting was truly designed to gauge interest and find out what people would like to get out of the meetings."
The qualitative research interest group will meet again on Thursday, August 2, from noon to 1 p.m. in Room 1-401 of the McGaw Pavilion, with monthly 90-minute sessions to be scheduled over the next six months. The group also anticipates establishing a Blackboard site as a repository for shared materials, as well as a couple of different ways for group members to seek others with similar interests or help with specific needs. Researchers interested in finding out more about the group can fill out the interest survey, or email Sandra LaBlance.