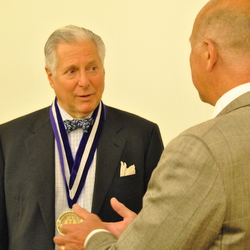 For Lewis Landsberg, MD, director of the Northwestern University Comprehensive Center on Obesity (NCCO), his odyssey into medicine began with a choice: pursue aspirations of becoming an academic historian, or take on the challenges of a career in medicine.         
"I chose to go into medicine because of the basic science component," said Landsberg, Irving S. Cutter Professor of Medicine Emeritus and professor in medicine-endocrinology. "I wanted a career that was intellectually stimulating, and this path was also rich with scientific inquiry."
Awarded the 2012 Tripartite Legacy Faculty Prize in Translational Science and Education during a ceremony on June 26, it wasn't unexpected, considering his interests, to hear Landsberg reference the odyssey of mentorship and education as related by the Ancient Greeks. After 42 years in medicine, it also wasn't unexpected to see an overflow crowd, or to hear the adulation of his peers.  
"As an exceptional researcher, exemplary teacher, and inspiring leader, it is a pleasure to present the Tripartite Prize to Dr. Landsberg," said Eric G. Neilson, MD, Feinberg's vice president for medical affairs and Lewis Landsberg Dean. "His vocation embodies the spirit of this award, and his career has earned an outstanding reputation among our faculty and students."
Presented annually to a faculty member who has demonstrated excellence in research that emphasizes translational ap­proaches, teaching, mentoring, and leader­ship, the Tripartite Award was established to commemorate the medical teaching legacies of five pioneers in medicine and education during the 19th and 20th centuries.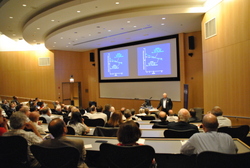 Former chief of pathology Geoffrey Kent, MD, a widely recognized leader in the field of liver disease, was one of those trailblazers. Kent's legacy continues today with his family's annual attendance at the ceremony recognizing Feinberg's most outstanding faculty member. The award is made possible through the generous philanthropic support of Kent's family and friends, and is sponsored and supported by the Office of the Dean.
"It is a very proud moment for me to receive this prestigious award and I am grateful to the leadership of the medical school for bestowing it upon me," Landsberg said. "I have been privileged to teach and mentor hundreds of medical students and residents, and scores of faculty members over the course of my career, and we must remember that one is never too old to be mentored or taught. We all get the chance to be both teachers and students at every phase of our careers."
Robert Rosa, MD, dean for regulatory affairs and chief compliance officer at Feinberg, nominated Landsberg for the rec­ognition, stating that Landsberg's work "changed the field of metabolism and nutrition." He commended Landsberg's dedication to education as well, noting "because of his widely recognized gifts as a teacher and his general wisdom, he has served as a role model for innumerable students, residents, and fellows and as a mentor for junior and senior faculty."
Landsberg graduated from Williams College in Williamstown Massachusetts in 1960 before embarking on medical school and an internal medicine internship at Yale. His training continued at the National Institutes of Health in the laboratory of Nobel Laureate and mentor Julius Axelrod, MD, after which he returned to Yale to complete his residency and serve as chief resident. Shortly after joining the Yale faculty, he was recruited to Harvard, where he rose through the ranks to become professor of medicine and chief of endocrinology at Beth Israel Hospital.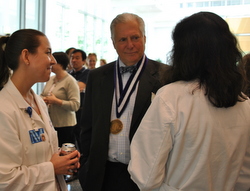 In 1990 he was recruited to Northwestern as the Irving S. Cutter Professor and chair of the Department of Medicine. In 1999 he became dean of the medical school, where he spent eight years before stepping down to become founding director of the NCCO.
"My time at Feinberg has provided me the opportunity to lead this great institution, first as the Department of Medicine chair and then as dean, but the thing I am most proud of is the people and recruitments I have been able to bring to the medical school and put into positions of leadership," Landsberg said.
As dean, Landsberg recruited or appointed 17 department chairs and eight center or institute directors, all of whom are recognized as scholars in their respective fields. During that time, extra-mural research more than doubled, a new research building was opened, and laboratory space increased by more than 70 percent.
Landsberg was instrumental in developing the medical simulation in education program as well as Feinberg's Physician Assistant tract, a two-year master's degree program, which graduated its first group of 30 students this past May.
"Dr. Landsberg has helped foster many great careers, mine among them, and has very effectively passed along the values of his mentors to many who are now themselves leaders," said Rex Chisholm, PhD, Vice Dean Scientific Affairs and Graduate Education. "He is a huge supporter of our research mission here at Feinberg and he continues to make important discoveries with regard to the sympathetic nervous system (SNS)." 
Landsberg's seminal discovery revealed that fasting suppresses and feeding stimulates the SNS, and that insulin-mediated glucose metabolism is the signal that connects changes in diet with changes in SNS activity. These findings transformed the fields of metabolism and nutrition. In 2007, the Northwestern Medical Faculty Foundation made an extraordinary gift to create and endow the Lewis Landsberg Deanship at Feinberg.