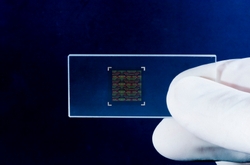 A $10 million gift from the Querrey Simpson Charitable Foundation will establish a center that will enhance Northwestern University's global leadership position in regenerative nanomedicine.
 
The Louis A. Simpson and Kimberly K. Querrey Center for Regenerative Nanomedicine will operate within Northwestern's Institute for BioNanotechnology in Medicine (IBNAM) and support bold, risk-taking research ideas that ultimately could offer solutions to challenging human health problems as well as develop life-enhancing therapies.
 
The University's global leadership in regenerative nanomedicine has inspired the transformative gift from Louis A. Simpson — a Northwestern Board of Trustees member and a 1958 alumnus of the University's Weinberg College of Arts and Sciences — and his wife, Kimberly K. Querrey, through their foundation.
 
Nanomedicine emerged over the last decade as a major research initiative that is now recognized by governments and industries in the United States and around the globe. Nanomedicine research seeks to employ designed nanostructures to create novel therapies to treat disease and trauma, discover avenues to regenerate tissues and organs of the human body, develop innovative diagnostic devices, and improve our ability to understand biological systems.
IBNAM Director Samuel I. Stupp, PhD, and his students over the last decade, in collaboration with various clinical faculty, have blazed a trail with research in the highly promising area of nanomedicine to promote regeneration of tissues.
 
Some of Stupp's novel materials, for example, promote regeneration in the central nervous system, which could impact therapies for spinal cord injury, stroke, Parkinson's disease, Alzheimer's disease, and other neurodegenerative diseases. Other work has focused on regeneration of cartilage and bone; regeneration of heart tissue after infarcts; growth of new arteries; and diabetes treatments. Stupp and his team collaborate with a number of clinical faculty in the areas of neurology, vascular surgery, cardiology, orthopedic surgery, neuroscience and transplantation surgery.
 
"Researchers in the new center will be able to collaborate with the best scientists around the world to pursue potential breakthroughs in regenerative nanomedicine that could translate into real therapies and offer human beings a higher quality of life," Stupp said.
 
The Louis A. Simpson and Kimberly K. Querrey Center for Regenerative Nanomedicine will encourage the development of groundbreaking ideas that ultimately could lead to self-supporting research through funding from federal agencies, foundations, venture capital start-up companies, or large corporations.  
 
"Innovative, bold ideas often are stifled or take an extremely long time to become fundable by external entities in the absence of the necessary data to demonstrate that they warrant a major investment," Stupp said.     
 
Stupp is the Board of Trustees Professor of Materials Science and Engineering, Chemistry and Medicine, and holds appointments at Northwestern University Feinberg School of Medicine, McCormick School of Engineering and Applied Science, and Weinberg. He is a leader in the rapidly advancing fields of nanoscience and molecular self-assembly, the strategy used by biology to create highly functional ordered structures. Stupp is developing nanostructured materials that are programmed for self-assembly into functional materials of interest in widely varying fields, including regenerative medicine, cancer therapies, and renewable energy.
"It is our honor to support a center that will help Northwestern maintain its leading edge in nanoscience and, in particular, in nanomedicine," Simpson said.
 
"The center's focus on improving people's lives through new therapies was particularly appealing to us," Querrey added.
 
IBNAM currently houses 11 professors and dozens of PhD students and postdoctoral fellows from Feinberg, McCormick and Weinberg. The new center will stage its research at IBNAM on Northwestern's Chicago campus, with strong links to other laboratories at the University and around the world.
 
"We are extremely grateful for this generous gift from Lou Simpson and Kimberly Querrey," said Northwestern President Morton Schapiro. "The new nanomedicine center will play a major role in extending the University's position as a global leader in the important intersection of nanoscience and medicine."