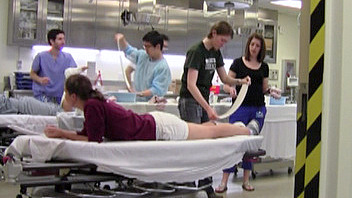 "Having a splint on my leg feels like having on a tight sock," said Chelsea Williams, a first-year medical student.
Williams is the treasurer of the Emergency Medicine Group, which held a musculoskeletal injuries lunch talk and hands-on splinting workshop along with the Sports Medicine Interest Group and Orthopedic Surgical Society.
The students met in McGaw Pavilion in the Center for Simulation Technology and Immersive Learning at Northwestern University Feinberg School of Medicine on May 2.  
"We were able to practice on each other and see all the different types of ways you solidify the splints. It was interesting to put it on someone else because we could see how we would do it an actual emergency room," Williams said.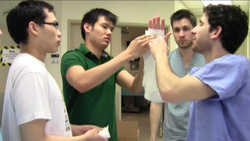 The Emergency Medicine Group sets up opportunities for students to experience the types of work that goes on in emergency medicine such as shadowing, and splinting, fracture and intubation workshops.
Nine students sat through a brief lecture on musculoskeletal injuries and splinting, and then emergency medicine residents showed them how to apply different types of casts and splints.
After first volunteering to splint a friend's wrist, Williams let peers put a splint on her leg.
"It is so nice to get to do something hands-on because so much of medical school in your first year is books. I still have plaster on my hands," Williams said, grinning. "Seeing the basics is nice and it is applicable to what we will learn next year when taking pathophysiology."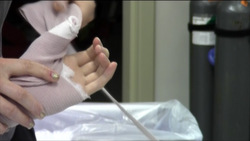 Participants covered her leg with cotton cast padding, and then the students measured, cut, and dunked plaster strips in buckets of warm water. Squeezing off extra water, they then applied the plaster to strategic areas and wrapped the final splint in a cotton elastic bandage.
"I think the more opportunities you have to see clinical medicine the better," Williams said. "Not only is it a nice break from studying, but it is exposure that gets us started in thinking about what we might be interested in. The earlier you get interested in a specialty, the more passionate you can be about it, and the more you can show that you have a passion for it."