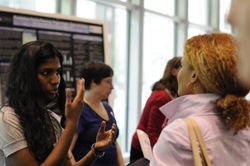 The Office of Admissions at Northwestern University Feinberg School of Medicine hosted its annual Second Look event for prospective students April 12-13. This year's program was the largest yet, welcoming more than 180 individuals accepted into the Class of 2016. These prospective students had the opportunity to learn more about Feinberg before making their final decisions about where to attend medical school.
"We are pleased to see so many men and women interested in our medical school and we appreciate the time and effort you made to come to Chicago for a second look," said Eric Neilson, MD, Vice President for Medical Affairs and Lewis Landsberg Dean. "We are delighted that you want to learn more about Feinberg and hope you will take advantage of this opportunity to engage with our students."
Second Look guests participated in small group sessions and panel discussions outlining Feinberg's curriculum, joint degree programs, and community health clinics, as well as opportunities for global health and student research. Tours of the Center for Simulation Technology and Immersive Learning, Northwestern Memorial Hospital's Prentice Women's Hospital, the Rehabilitation Institute of Chicago, and a hard hat tour of the new Ann & Robert H. Lurie Children's Hospital of Chicago, showcased the many Chicago campus offerings.
Jacqueline Hairston, who received her undergraduate degree from Harvard University, decided to attend Second Look because she wanted to find out what it would be like to attend Feinberg.
"It was nice to engage with the campus. I think the tours of the hospital were the best part. I liked that the women's hospital doctors spoke about the school and the hospital, it was impressive," said Hairston.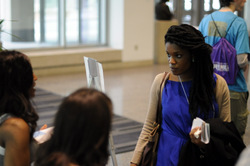 Second Look ended with a joint degree program and student organization fair. Medical students shared with the prospective students the various groups and opportunities that are available at Feinberg.
"After talking to the different groups, I was really interested in the various options at Feinberg, like the global health opportunities," said Onyekachi Otugo, a University of Maryland graduate. "I came to meet potential classmates, and meeting with current students definitely helped my decision process a lot. The medical school is no longer a pamphlet or a website, Second Look makes the school more real."
Shanti Leon Guerrero, a first-year medical student also pursuing a Master's of Public Health degree, represented the Family Medicine Interest Group and Destination Chicago, a pre-orientation program.
"It's fun just to let the students see the different opportunities they would have at Feinberg and to show them how they would get to engage in all different types of communities while here. I get excited to meet a new student, and I am looking forward to getting to know another class and to see what they are all about," she said.