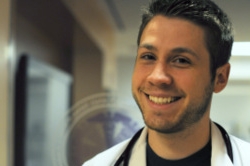 "He was lying on his back, jaw clenched, and shaking. After running to get an automated external defibrillator (AED) and an ambulance, I started cutting his clothes off and administering CPR," said Paul Jansson, a first-year Northwestern University Feinberg School of Medicine student.
Jansson was volunteering at an aid station at the 2012 Bank of America Shamrock Shuffle on Sunday, March 25, when a 63-year-old man suffered sudden cardiac arrest at mile three. More than 34,000 runners competed in the 8-kilometer, or 4.97 mile race.
Before this episode, Jansson said he was talking with the other volunteers at the aid station about his previous volunteer experiences, "telling them, 'I'm not expecting to see anything serious,' when a racer came up to us and said there was a runner down in the middle of the street about a block away from us. I took off running."
At first, the aid station team thought the man was having a seizure, but when Jansson found that the man had no pulse, he began to administer CPR. After applying the AED, Jansson shocked him once, restarting his heart. The man was then taken by ambulance to Rush University Medical Center.
"It was the first time I had used CPR successfully on a patient," said Jansson. "It was amazing to see him wake up. Everything happened so quickly, my training kicked in, and I did what I had learned and practiced. We did a lot of CPR training and practicing at [Feinberg's] simulation center and I was able to apply what I had learned."
Before enrolling at Feinberg, Jansson, a licensed EMT, worked in the emergency medicine department of Evanston Hospital and spent a year as a simulation specialist and project manager in the medical school's Center for Simulation Technology and Immersive Learning.
"Paul is a talented young man who is eager to help and has always done the right thing," said John Vozenilek, MD, director of the simulation center and associate professor in the Department of Emergency Medicine. "Paul was instrumental in several Northwestern simulation community outreach events where the focus was on teaching AED and CPR to elementary and high school students. It is no surprise to me that when called to act, Paul was ready to perform. We are very proud to have been a part of his preparation."
Jansson also spent time working with Chicago Cardiac Arrest Resuscitation Education Service (CCARES), a non-profit organization that aims to increase the survival rate of sudden cardiac arrest victims in Chicago. CCARES partners with organizations in the Chicago community to educate individuals about CPR and to raise awareness of the importance of bystander CPR and AED use.
"Anyone could have done what I did by knowing basic CPR and having access to an AED," said Jansson.
Jansson will conduct research on simulation technology over the summer and is also pursuing a Master of Science in Healthcare Quality and Patient Safety.