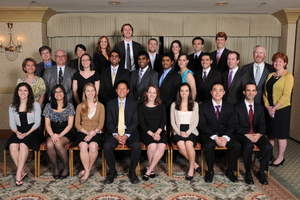 The Alpha Omega Alpha (AOA) medical honor society inducted its newest Northwestern University Feinberg School of Medicine members at a ceremony on Thursday, March 15. Inductees included medical students, residents, faculty members, and an alumnus. AOA recognizes scholarly achievement and qualities such as leadership, professionalism, and community service.
John P. Flaherty, MD, councilor of the AOA Illinois Gamma Chapter and professor in the Department of Medicine and Infectious Disease, congratulated inductees on being in the top six percent of medical students in the country.
"Election into AOA is a tremendous accomplishment and membership in the society is a lifelong honor that confers recognition for a physician's dedication to the profession," he said.
Ravi Patel, a fourth year medical student, said being a member is a humbling experience.
"It is a complete honor to be inducted, and to be recognized and celebrated for our hard work," he said. "The class of 2012 is a stellar class and I had the chance to work with bright students who challenged me. What makes Feinberg special is that everyone has something to bring to the table."
A total of 26 medical students were inducted. This year, the AOA inductee class also received funding to pursue a community project.
"Our AOA inductee class is the first to start to give back to the community," said Muthiah Vaduganathan, a fourth year student. "We decided it would be exciting, fun, and helpful to renovate the community health clinics. After spending so much time there as a student, it is really a great way to improve the quality of the clinics and give back to the community,"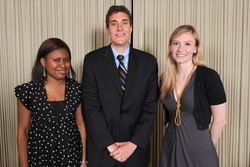 Other fourth year medical students inducted into AOA include; Elizabeth Atchison, Anna Banc, Lee-Shing Chang, Peter Chang, Christine Cherella, Casey Curran, Kathryn Dean, Aaron Eifler, Miranda Hart, Bruce Henschen, Brian Holoyda, Jad Jabbour, Emily Kern, Trilokesh Kidambi, Victoria Lee, David Lin, Nitin Mehdiratta, Eduardo Moioli, Shivani Nanda, Katrina Saulrieta, Kunj Sheth, Carly Stewart, and Chase Woodward.
Three residents, Geraldine Ekpo, MD, Department of Obstetrics and Gynecology, Nicholas Furiasse, MD, Department of Internal Medicine, and Mary Prahl, MD, Department of Pediatrics, were also inducted and honored for their ongoing leadership in their fields and active participation in teaching and community service.
"Some of the most clinically astute, knowledgeable, and driven physicians I know are AOA members, so I'm honored to be in similar company," said Ekpo. "I grew up in a family where academic success was not an option but a very clear expectation, so being nominated to an organization that recognizes excellence means a lot."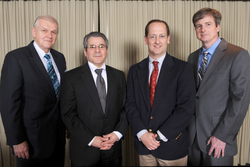 Two faculty members, Arvydas Vanagunas, MD, chief and professor in medicine-gastroenterology and hepatology, and David Bentrem, MD, Harold L. and Margaret Research Professor in Surgery and associate professor in surgery-surgical oncology were also induced, along with alumnus Alan Micco, MD, associate professor in otolaryngology and neurological surgery.
Bentrem said it was an honor to be recognized by colleagues and meaningful since the AOA honor society was started in Chicago and Northwestern was one of the first institutions to particpate.
"I think it is important to foster academic achievement and work together in this community of like-minded physicians and medical students," he said. "As the role of medical research continues to be re-examined, this group continues to promote academic excellence and public well-being."