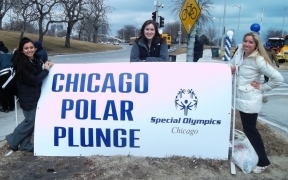 At 11:30 a.m. on Sunday, March 4, 13 medical students threw on their white coats and voluntarily jumped into 38-degree water in Lake Michigan at North Avenue Beach.
Feinberg's Icebergs, part of the student group Nclude, participated in Chicago's 12th Annual Polar Plunge to raise money for Special Olympics. The student group is committed to exposing Feinberg students to the needs and values of different patient populations, including those with special needs.
"The Polar Plunge was an outstanding event," says Kristen Unti, a first-year medical student. "It was so great to see thousands of people participating in a charity event for Special Olympics Chicago. Running and jumping into the freezing water with the rest of the Feinberg's Icebergs team was definitely a numbing, but very exhilarating experience. I'm definitely going to do it again next year."
"It really makes me proud to be a part of the Feinberg community that we would have so many people sign up for something like this," says Ben Stewart, organizer of the group and a second-year medical student. "I'm a Floridian, so the idea of jumping into a lake when it is 32 degrees outside seems a little intimidating, but it's a really great cause and maybe even warrants a little hypothermia."
Stewart volunteered as a Special Olympian buddy throughout high school. He said at the Special Olympics "it is so great to get to see these kids get to just be kids, to get to participate in an event that is entirely about them, and to feel like superstars for a day. It really is something rather extraordinary, and I don't think I know of anything else quite like it."
The other plungers include first-year students Anna Balabanova, Elaine Coldren, Dan Dean, Anshika Kaushik, and Chris Deyholos; and second-year students Luis Soliz, Neil Chatterjee, Eric Farmer, Jenny Febbo, Mania Kupershtok, and Joan Tankou.
The group raised more than $2,690.
"I'm really glad that we were able to raise as much as we did," Stewart says. "My hope is that the Polar Plunge will become established as a Feinberg tradition and that we will be able to contribute even more in the years to come."
Donations to Feinberg's Icebergs can be made through their fundraising page.