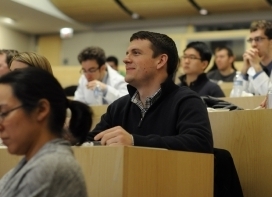 In recognition of Health Disparities Week (February 20-24), the student-led Health Disparities Task Force (HDTF) ran a program, "Eat, Learn, and Engage," for medical students and faculty that offered a week of lunchtime speakers focused on healthcare inequality.
First-year student Addie Boone, president of HDTF, said the goal of the group is to engage the Northwestern University Feinberg School of Medicine community in a conversation on health equity and increase awareness about the issue.  The organization puts on two events a year, one in October and one in February.
"All of us entering the medical profession will be confronted with the inequities that exist in our current health system in one form or another," said Boone. "The week-long series was a great opportunity to increase our awareness of some of the health disparities that we will encounter in our medical training and career, hear about what is being done to close the gaps in health equity, and engage with the speakers and each other to explore these areas more."
Boone envisions the "Eat, Learn, and Engage" program growing beyond the two one-week events to give faculty and students the opportunity to have conversations on equity in healthcare on a consistent basis. The program is tied to the medical school curriculum through the Patient, Physician, and Society course, and coincides with a unit on cultural dynamics in medicine. First-year students were required to attend at least one of the sessions.   
Ben Kester, first-year student, attended the Friday panel discussion on "The Intersection of Medicine and Faith." Three physicians shared their experiences with patients whose spirituality had an impact on their health assessment and treatment.
"I choose to go to this talk for the practicality and the religious aspects. The doctors on the panel gave good anecdotes about day-to-day encounters with patients," said Kester. "This week is about awareness, and the talk provided insight about cooperating with patients and other people in the medical community in regard to their religion and spirituality. Learning about these topics prepares us for when we start interacting with patients."
Other speakers at the event included:
• David A. Ansell, MD, MPH, chief medical officer at Rush University Medical Center, spoke about his book, County: The Chicago Death Gap and What to do About It. He dedicated his career to fighting health inequity by building programs to address and eliminate disparities.
• Sheelah Muhammad, MBA, a former program officer for the Oprah Winfrey Foundation, spoke about her experiences as co-founder of Food Desert Action and co-creator of the Fresh Moves Mobile Produce Market. Her organizations use innovative community-based solutions to increase access to fresh, healthy food options in low-income, historically excluded, and underserved communities. 
• David W. Baker, MD, MPH, chief of the Division of Medicine-General Internal Medicine and Geriatrics and Michael A. Gertz Professor of Medicine at Feinberg, talked about his work in health literacy, language barriers, the effect of insurance on health care use and health outcomes, and racial and ethnic differences in health care use and outcomes. 
• Phyllis Pettit Nassi, MSW, manager of special populations at Huntsman Cancer Institute, University of Utah-Salt Lake City, and a member of the Cherokee Nation and the Otoe-Missouri Tribe, spoke about her efforts in educating American Indian communities about cancer prevention and screening.