Webster Named President of Chicago Board of Health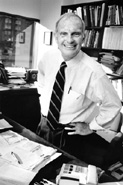 James R. Webster Jr., MD, Michael A. Gertz Professor of Medicine, is the new president of the Chicago Board of Health. Dr. Webster was appointed to the post by Mayor Richard M. Daley and confirmed by the City Council in early December. The Chicago Board of Health is the governing body of the Chicago Department of Public Health, which serves nearly 3 million residents of Chicago by providing leadership and programs in public health areas such as violence prevention, HIV/AIDS, mental health, and nutrition.
Said John Wilhelm, MD, Department of Public Health Commissioner, "It is a pleasure and a privilege to welcome Dr. Webster to the board. His distinguished career, community involvement, and commitment to health care access and more made him a wise choice for board president. I am confident that his tenure will be productive and add greatly to moving public health forward in Chicago."
Dr. Webster earned his MD degree from Northwestern in 1956 and completed residency at the Northwestern University Medical Center (now McGaw Medical Center of Northwestern University) in 1960. He joined the Northwestern faculty in 1965, rising to full professor in 1977. He has held the Gertz professorship since 1988 and from 1981–87 was the Gilbert H. Marquardt Professor of Medicine.
An award-winning teacher and former chief of staff at Northwestern Memorial Hospital, Dr. Webster for 11 years served as director of Northwestern's Buehler Center on Aging. Since 1997 he has chaired the Ad Hoc Committee to Defend Health Care and in 2002 began his term as president of the Institute of Medicine of Chicago.