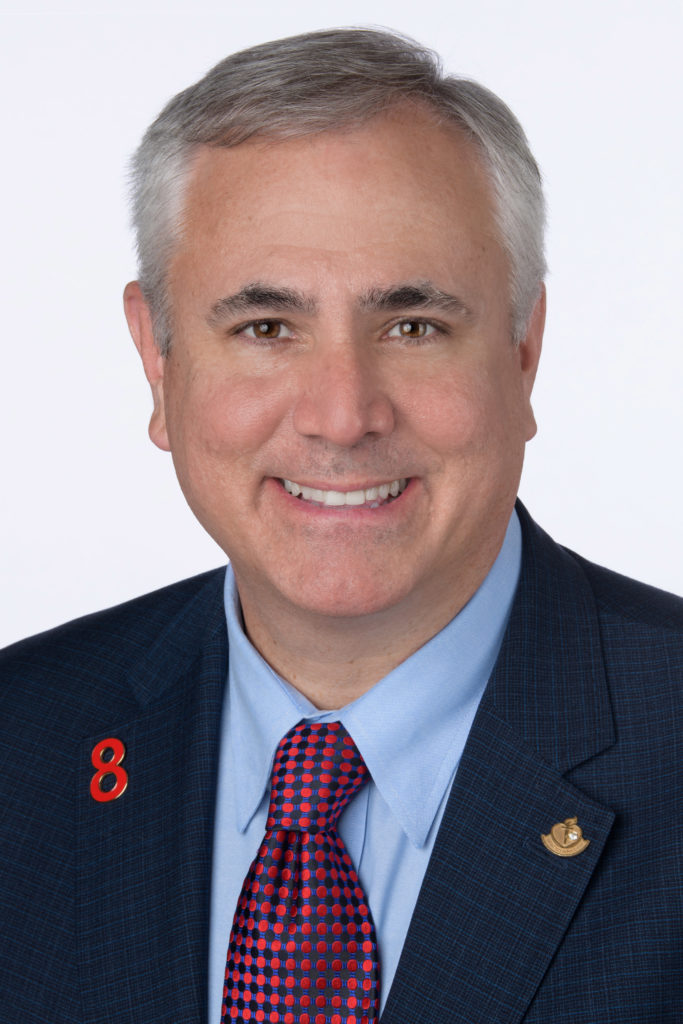 Donald Lloyd-Jones, MD, ScM, the Eileen M. Foell Professor, has announced that he will be stepping down as chair of the Department of Preventive Medicine at the end of this academic year, after 15 years of distinguished leadership in the role. Since taking the helm in 2009, the department has grown tremendously, rising to the number one NIH-funded public health department of its kind, and internationally recognized as a premier destination for preventive medicine and population health.  
"Serving as chair of this department has been the opportunity of a lifetime," Lloyd-Jones said. "From its formation by Jerry Stamler more than 50 years ago to today, you can see the thread of research and training that has influenced and transformed the field of preventive medicine. I'm proud to be part of that legacy and to have championed excellent science and collaboration. We have trained generations of truly outstanding preventive and population health scientists, and to see their success is what I'm most proud of as a departmental legacy."
Originally founded in 1972 as a small team of fewer than 10 people, the department has grown to include seven divisions with 302 faculty and staff. It is comprised of faculty from an array of scientific disciplines: epidemiologists, nutrition and behavioral scientists, biostatisticians, informaticians, public health practitioners, clinicians, and more, all working collaboratively to impact disease prevention and health promotion across the life course. In the 2022-2023 year, the department received more than $44 million in research funding and awards, its highest ever.
Recruited to the department in 2004 from Harvard Medical School and Massachusetts General Hospital, Lloyd-Jones was an active early career investigator at the long-running Framingham Heart Study. While at Feinberg, in addition to his role as chair, he was senior associate dean for clinical and translational Sciences research and director of the NUCATS Institute from 2012 to 2020. From 2021 to 2022, he also served as president of the American Heart Association. A prolific scientist, he has published 788 peer-reviewed publications to date and regularly is listed among the top 1 percent of highly cited researchers who have "demonstrated significant and broad influence" by Clarivate Analytics.
Lloyd-Jones' research interests include the study of the mechanisms and life course of cardiovascular health and healthy aging, and cardiovascular disease epidemiology and prevention. A main focus of his research has been investigation of the life course and mechanisms of chronic diseases of aging, lifetime risks for various cardiovascular diseases, and factors which modify those risks. Other areas of interest include cardiovascular disease risk estimation using novel biomarkers, imaging of subclinical atherosclerosis, and the epidemiology and outcomes of hypertension and dyslipidemia. His clinical and teaching interests lie in general cardiology, with a focus on prevention.
"Don has been a tremendous force as chair of Preventive Medicine; his impressive accomplishments and impactful body of research are exemplar," said Eric G. Neilson, MD, vice president for medical affairs and Lewis Landsberg Dean. "But most striking about working with Don, is what Jerry Stamler said about him in 2009 – 'he's sharp, level-headed, warm and positive.' He has set the bar high for everyone in the department, and he's done it by championing people and purpose. We are thankful for his years of thoughtful leadership, and I know his legacy as chair will be warmly remembered and passed on for generations."
Lloyd-Jones will stay on as chair of the department until a new chair has been selected. After stepping down, he will remain a member of the faculty in the departments of Preventive Medicine, Medicine, and Pediatrics, and continue his clinical practice and research, including helping lead two large studies focusing on understanding the impact of maternal health during pregnancy and of social determinants of health from birth on trajectories of cardiovascular health into adulthood. He and his team also recently received funding from NIH for 10 more years of the longstanding Coronary Artery Risk Development in Young Adults Study, which began in 1985.
A graduate of Swarthmore College, Lloyd-Jones received his Doctor of Medicine degree from Columbia University College of Physicians and Surgeons in 1991 and his Master of Science degree in epidemiology from the Harvard School of Public Health in 2001. He is a fellow of the American College of Cardiology and the American Heart Association and has received numerous prestigious awards and honors.