'She used to operate on stuffed animals'
Twelve-year-old Melanie Rodriguez Romo has dreamed of becoming a doctor since she was just three. So much so that she requested it as her Make-A-Wish following a life-saving kidney transplant.
A team-effort between Northwestern University Feinberg School of Medicine, the Make-A-Wish Foundation, the kidney and transplant teams at the Ann & Robert H. Lurie Children's Hospital of Chicago and Lurie Children's kidSTAR Medical Education Program, her wish was granted. It was the first "doctor-for-a-day" wish granted in Illinois by Make-A-Wish.
"I like to help people, and then I could tell my story and know what they might feel (from) when I felt it," Melanie said when explaining her reason for wanting to become a doctor.
In August 2021, Melanie was diagnosed with advanced Chronic Kidney Disease (CKD). Through a biopsy and genetic testing, Lurie Children's Kidney Diseases Team confirmed a form of progressive genetic kidney disease that would only get worse with time. Her CKD progressed rapidly to the point at which she was more tired and had difficulty paying attention in school (where she usually thrived). She also was requiring many medications and a strict diet to keep her electrolytes, bones and blood pressure safe. By spring 2022, her team of clinicians determined it was time for a kidney transplant. She received a kidney from her mother in October of 2022.
"It's not just her wish, it's a dream for our whole family," said Araceli Romo, Melanie's mom and living organ donor.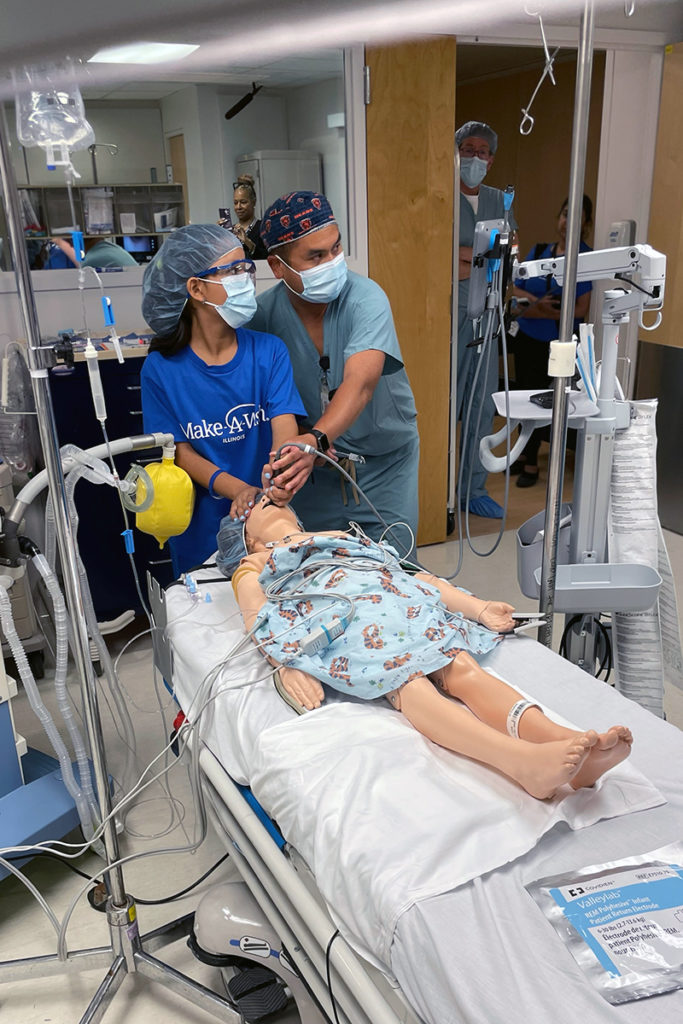 During her recent two-day Make-A-Wish visit at Northwestern and Lurie Children's, Melanie received her medical school letter of acceptance and jumped right into pursuing her dream. She participated in simulated patient care, learning how to perform CPR, cast a broken arm, intubate a simulated patient and suture a simulated wound. During a graduation ceremony, Melanie received her white coat and medical school diploma.
"For a 12-year-old girl to wish that is just incredible," said Carlos Becerril-Romero, MD, a nephrology fellow in the department of pediatrics at Feinberg and Lurie Children's and Melanie's physician throughout her kidney-transplant journey. "I think we have the responsibility to nourish that passion for medicine."
Melanie's Make-A-Wish experience also gave her the chance to perform a simulated surgery to remove a simulated patient's gallstones.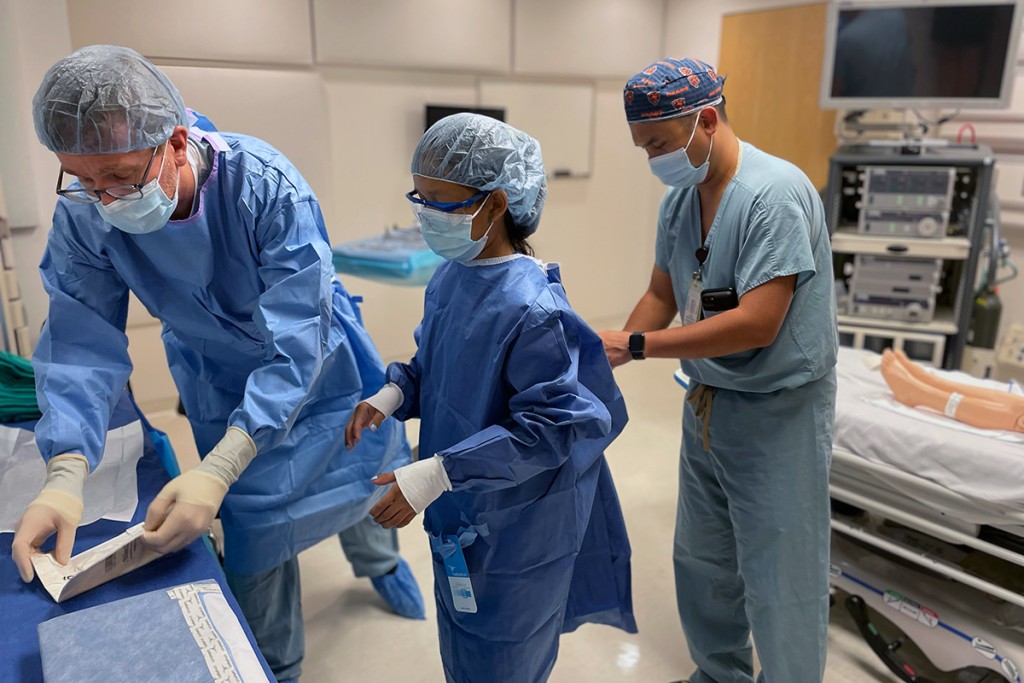 "It takes small life experiences to inspire," said Eric Hungness, MD, the S. David Stulberg, MD, Professor of Advanced Surgical Education and professor of Surgery in the Division of Gastrointestinal Surgery, and of Medical Education, who led Melanie through the simulated surgery at Northwestern. "Obstacles are put in peoples' way in life, and it's a matter of how you respond to that. You can just tell that (Melanie's family is) incredibly loving, thankful for the care they've received, and I know they want to pay that forward."
Northwestern Simulation has provided a safe training environment for thousands of students and health care professionals since 2010.
"We often teach doctors and nurses how to do what they do in a lecture hall, but adults learn best when they're actually doing," said Feinberg professor of medicine and medical education Jeffrey Barsuk, MD, MS, the Robert Hirschtick Professor of Medicine in the Division of Hospital Medicine, who also serves as the executive medical director of Northwestern Simulation. "What a better way to learn than on a mannequin or a computer you can interact with using your hands? It's completely safe, but it replicates what patient care would be like almost completely."
The faculty expertise and access to the latest simulation technology has made Northwestern Simulation a nationally recognized leader in the field of simulation-based training.
"I heard stories about how Melanie would operate on stuffed animals and intubate them," Barsuk said. "When I was Melanie's age, I wanted to be a doctor, too, and there weren't these neat simulators around that I could work on. Just to be able to help her have this experience, it made everyone have a light heart."