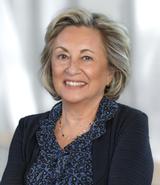 Sandra Weintraub, PhD, professor of Psychiatry and Behavioral Sciences in the Division of Psychology and associate director of the Northwestern Alzheimer's Disease Research Center in the Mesulam Center for Cognitive Neurology and Alzheimer's Disease, was recently appointed to the Illinois Supreme Court Commission on Elder Law.
The commission, which went into effect last April, is tasked with helping the Illinois Supreme Court more effectively address the needs and legal issues of seniors and their families in the state of Illinois. Weintraub will join Darby Morhardt, PhD, LCSW, research professor in the Mesulam Center for Cognitive Neurology and Alzheimer's Disease and of Preventive Medicine in the Division of Public Health Practice, who was appointed to the commission last year.
"It is a great honor to be appointed to the Illinois Supreme Court Commission on Elder Law. My entire career has been devoted to the study of cognitive changes associated with the aging brain in both health and disease, and providing clinical neuropsychological services for individuals who suffer from diseases causing dementia. This appointment allows me to share my expertise in a venue that can have a broad impact on the lives of older individuals," said Weintraub, who is also a professor in the Ken and Ruth Davee Department of Neurology.
Read a Q&A with Weintraub below.
How will you be involved with the commission?
I will join a panel of 12 individuals appointed to this commission, representing a variety of perspectives, including geriatric medicine, brain and cognitive aging, psychosocial well-being, and legal constructs. The commission was originally created to help the Supreme Court of Illinois understand how state courts can better serve the needs of those in advancing years.
How will your research and clinical practice in neurodegenerative diseases help advance the commission's reach?
With the aging of the baby boomer generation, there will be more and more incidence of diseases that cause dementia and it will become increasingly important to understand how to best respect the individual's autonomy, while at the same time assuring that they are safe from exploitation and not making decisions that put them in financial jeopardy.
Neurodegenerative diseases of the brain that cause dementia are currently irreversible. In the absence of a cure, my work with affected individuals and their families has given me the desire to contribute in a way that, at the least, might make it easier to handle the challenges they face over a prolonged period of time.
What change do you hope to see while working with the commission?
Although we have been increasing our knowledge of age-related cognitive decline and have made a great deal of progress in research on brain aging, this knowledge has yet to make its way to all segments of the population. As a result, there is a lot of misunderstanding about what "normal aging" really means. There turns out to be great individual differences among healthy older adults in how they change cognitively over time.
For example, the average individual over age 80 will experience mild memory loss but not to the extent that will prevent them from living independent lives. However, there are some individuals over the age of 80 whose memory continues to be as strong as it was 30 years earlier. These individuals, who we have labeled "SuperAgers" at Northwestern, defy all common beliefs about cognitive aging. We are studying them in order to determine how they can sustain a high level of cognitive functioning in old age. 
On the other end of the spectrum, however, are those older individuals in whom diseases develop that cause dementia, a progressive loss of cognitive functions that interfere with the ability to carry out activities of daily living such as paying bills, driving and making decisions about medical care. I hope that my work with the commission will contribute to incorporating concepts of the heterogeneity of cognitive aging in a way that leads to advances in social policy affecting access to care and services for older individuals.