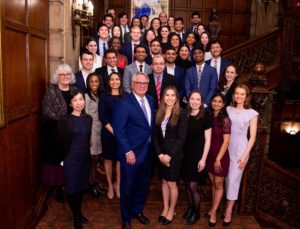 Feinberg's chapter of the Alpha Omega Alpha (AOA) medical honor society welcomed 42 new members in a ceremony on March 15, recognizing outstanding educational achievement and significant contributions to medicine. This year's ceremony marked the induction of AOA's 120th class since Feinberg's AOA chapter was founded in 1903.
"March is an exciting time for all of our students and faculty as we approach Match Day. It's also a time to recognize and honor our students, housestaff and faculty. These members have distinguished themselves by providing superb care, excelling in research and giving passionate service to the community, and today we recognize the most outstanding contributors in these domains to Alpha Omega Alpha medical honor society," said Shilajit Kundu, MD, '07 GME, chief of Urologic Oncology in the Department of Urology, who welcomed inductees and guests to the ceremony.
---
View an album of photos from this year's AOA induction dinner.
---
Kundu, who also serves as AOA councilor for Feinberg, introduced Douglas Vaughan, MD, chair and the Irving S. Cutter Professor of Medicine, who delivered the Walter G. Barr, MD, Lecture prior to the induction ceremony, discussing his work investigating the plasminogen activator system and its role in cardiovascular disease and aging.
For more than three decades, Vaughan has been studying plasminogen activator inhibitor (PAI-1), a protein encoded by the SERPINE1 gene that affects mechanisms related to aging or senescence of cells. This work led him to discover a rare blood disorder in a small Amish community located in Northwest Indiana, many of whom had very low levels of PAI-1.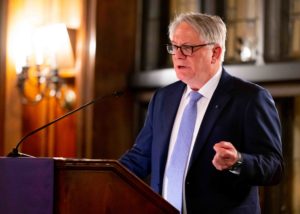 Vaughan's team discovered that immediate family and relatives with the PAI-1 mutation lived more than 10 percent longer than community members without the mutation and had significantly fewer diagnoses of diabetes and lower fasting insulin levels. Vaughan's breakthrough findings, published in Science Advances in 2017, suggest that PAI-1 deficiency can protect against aging and could serve as a potential therapeutic target for diabetes and other age-related diseases.
"The fact that heterozygosity provides a benefit against aging made me think that perhaps heterozygosity would be associated with a protection against aging and diabetes," Vaughan said.
Vaughan also credited his many collaborators, colleagues and mentors, past and present, for guiding and supporting him throughout his career.
"As you go through life, you never know when you're going to hear something from somebody or someone is going to make a suggestion to you, and it might seem small in the moment, but it could actually have an enduring way of illuminating your life and your career," Vaughan said.
Following the lecture, Susan Goldsmith, MD, '08 GME, associate dean for student affairs and associate professor of Obstetrics and Gynecology in the Division of General Obstetrics and Gynecology, welcomed the 33 new medical student members into AOA.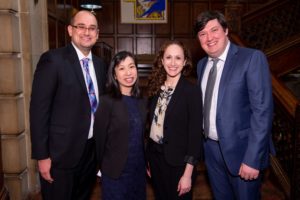 "As the first person in my family to go into medicine, I am very honored to have been selected for induction into AOA. Seeing the peers and mentors I am joining in this society reminds me of the range of backgrounds and interests that led us all to Feinberg and to this shared experience. I look forward to proudly representing Feinberg and AOA in my future training and career," said Sydney Olson, a fourth-year medical student who was inducted into the medical honor society.  
New housestaff inductees were announced by Joshua Goldstein, MD, senior associate dean for Graduate Medical Education and a professor of Pediatrics in the Division of Neurology and Epilepsy and in the Ken and Ruth Davee Department of Neurology.
"It is an honor to be among a group of such talented and accomplished physicians. I am incredibly grateful to my mentors who have fostered my passions for medicine and research, and who continue to help me grow as a clinician and investigator," said Natalie Cameron, MD, '21 GME, instructor of Medicine in the Division of General Internal Medicine, who was inducted into AOA.
Marianne Green, MD, vice dean for Education and the Raymond H. Curry, MD, Professor of Medical Education, welcomed faculty inductees to medical honor society.
"I am very grateful and honored to be inducted to AOA. As the national honor society in medicine recognizing academic and teaching contributions, as well as improving healthcare, it is humbling to be included. Equally important to me is that I was nominated and selected by my Feinberg peers. I truly appreciate the recognition," said Patricia Franklin, MD, MPH, MBA, professor of Medical Social Sciences, of Medicine in the Division of Rheumatology and of Orthopaedic Surgery, who joined AOA as a faculty member.
AOA 2022 Inductees
Students: Saaket Agrawal, Sonia Ahluwalia, Precious Nsorhma Winebo Akanyirige, Siddhant Ambulkar, Elana Tori Benishay, Chen Chen, Adam De Jesus, Celestia Fang Tinari, Swati Garg, Maria Gomez-Roas, Reeti Kiran Gulati, Viswajit Kandula, Szu-In Lim, Ashorne Mahenthiran, Alba Mariner Gonzalez, Maxwell McMahon, Julio Meza, Constantine Nicolozakes, Nonye Ogbuefi, Sydney Leavitt Olson, Janice Ong, Simon Joseph Padanilam, Tricia Pendergrast, Wesley Peng, Ashvita Ramesh, Andrea Rustad, Sarah Schwartz, Michael Scott, Nikhil Shah, Parth Shah, Osama Mannan Siddiqui, Lauren Smith and James Wester.
Housestaff: Jason Arnold, MD; Natalie Cameron, MD, '21 GME, instructor of Medicine in the Division of General Internal Medicine; Samaa Kemal, MD, MPH; Anthony Pensa, MD; and Sharlene See, MD.
Alumni and faculty: Apkar Apkarian, PhD, director of the Center for Translational Pain Research and professor of Neuroscience, of Anesthesiology and of Physical Medicine and Rehabilitation; Brenda Bohnsack, MD, PhD, the Lillian Sherman Cowen Reiger and Harold L.S. Cowen Research Professor of Pediatric Ophthalmology and chief of Pediatric Ophthalmology in the Department of Ophthalmology; Daniel Borja-Cacho, MD, '22 MSc, assistant professor of Surgery in the Division of Organ Transplantation; and Patricia Franklin, MD, MPH, MBA, of Medicine in the Division of Rheumatology and of Orthopaedic Surgery.