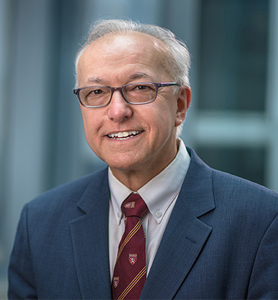 George Q. Daley, MD, PhD, dean of Harvard Medical School and the Caroline Shields Walker Professor of Medicine, will address graduates, their families and guests at Feinberg's 164th commencement ceremony on Monday, May 15.
Daley is an internationally recognized leader in stem cell science and cancer biology whose work has contributed to the advancement of basic science and clinical medicine.
Daley earned his PhD in biology at MIT in 1989 and his medical degree from Harvard Medical School in 1991. He completed his residency in internal medicine at Massachusetts General Hospital and his fellowships at Brigham and Women's and Boston Children's hospitals. He joined Harvard Medical School faculty as an assistant professor of biological chemistry and molecular pharmacology in 1995 and became a full professor in 2010. In 2017, he was named dean of Harvard Medical School.
Daley's research aims to identify mechanisms that underlie blood disorders and cancer, including how stem cells contribute to tissue regeneration and repair, and to improve drug therapies and transplantation for patients with malignant and genetic bone marrow disease.
Notable contributions from his laboratory have included the creation of customized stem cells to treat genetic immune deficiency, the differentiation of germ cells from embryonic stem cells, the generation of disease-specific pluripotent stem cells by directly reprogramming human fibroblasts, and demonstration of the role of the LIN28/let-7 pathway in cancer.
Daley has served as a member of the faculty of the Harvard-MIT Division of Health Sciences and Technology since 1995, has been a founding member of the executive committee of the Harvard Stem Cell Institute since 2004, and has served as an associate member of the Broad Institute of MIT and Harvard and a core faculty member of the Manton Center for Orphan Disease Research at Boston Children's Hosptial since 2009.
In addition to his research and academic contributions, Daley has been an instrumental figure in developing international guidelines for stem cell research and the clinical translation of stem cells. He has also testified before Congress and has spoken in forums around the world on the scientific and ethical dimensions of stem cell research.
Daley is the recipient of numerous honors and awards for his work, and in 2004 was the inaugural winner of the National Institutes of Health Director's Pioneer Award for highly innovative research. He is an elected member of multiple professional societies, including the National Academy of Medicine and the American Society for Clinical Investigation.