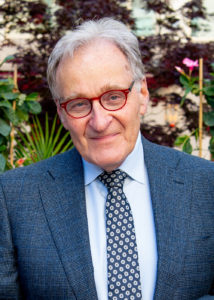 An emerging therapy showed promise in patients with relapsed B-cell lymphoma who are not good candidates for stem cell transplants, according to a non-randomized phase II trial published in The Lancet Oncology.
The therapy, which genetically modifies patient T-cells into aggressive cancer killers, could provide a new treatment option for these patients, according to Leo Gordon, MD, the Abby and John Friend Professor of Oncology Research, professor of Medicine in the Division of Hematology and Oncology and senior author of the study.
"We need to find other options for these patients, who are not ideal candidates for stem cell transplants," said Gordon, who is also a member of the Robert H. Lurie Comprehensive Cancer Center of Northwestern University.
B-cells are blood cells that make antibodies to fight bacteria and viruses. In B-cell lymphoma, the body produces too many abnormal B-cells which can spread to other parts of the body such as the lymph nodes, bone marrow or spleen.
For patients whose lymphoma is treated and then relapses, the preferred treatment is a bone marrow transplant, a procedure that infuses healthy blood-forming stem cells into bone marrow to replace those that have been damaged by cancer or chemotherapy. However, the transplant poses significant risks, so many patients are not good candidates due to age or comprised cardiac or renal function, according to Gordon.
"If they're not a good candidate for a transplant, then the treatment goals are more palliative than they are curative, until now" Gordon said.
Chimeric antigen receptor (CAR-T) treatments are a possible solution to this problem. Clinicians collect T-cells from patients in a procedure called leukapheresis, which involves removing T-cells from the blood, then sending the cells are to a laboratory where new genes are inserted into those cells.
The genes cause the T-cells to recognize and attack a target — in this case, a particular protein on lymphoma cells. This process of manufacturing the cells can take several weeks, and afterwards, the cells are infused back into the patient.
In the trial, investigators recruited more than 70 patients with relapsed B-cell lymphoma who, by age and comorbidity criteria, were not good candidates for a transplant. Sixty-one patients ultimately received the treatment, and 80 percent responded to the treatment. A little more than half of the 61 patients experienced complete remission of cancer, with a median remission duration of nearly 22 months.
Side-effects were present but in line with previous studies examining CAR-T therapy, with about 40 percent of patients experiencing some immune system complications but no deaths.
The results are promising, Gordon said, but there are additional questions to ask about CAR-T in patients in B-cell lymphoma. In the future, Gordon said he wants to examine usage of CAR-T therapy earlier in disease.
"We see many high-risk patients where we don't expect a complete response from chemotherapy — can CAR-T be used here to produce better outcomes?" Gordon said.
This study was funded by Juno Therapeutics, a Bristol-Myers Squibb company.