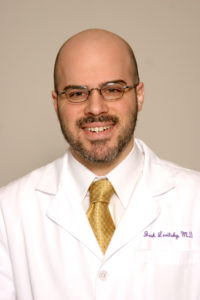 Josh Levitsky, MD, '08 MS, professor of Medicine in the Division of Gastroenterology and Hepatology, has been selected as president-elect of the American Society of Transplantation (AST). Levitsky's term as president will begin in June 2023.
With more than 4,000 members, the society is the largest transplant organization in North America and is a recognized authority for research, advocacy, education and organ donation.
"This is an incredible opportunity to make a difference in the field of organ transplantation. I am honored to be chosen by my peers to be the next president, after serving for several years as a councilor and treasurer on the AST board," said Levitsky, who is also a professor of Surgery in the Division of Organ Transplantation and of Medical Education.
Levitsky's research interests include liver transplant immunosuppression, transplant organ tolerance and biomarkers. He is the principal and co-investigator for several NIH, pharmaceutical and investigator-initiated trials.
One recent study — a collaboration with Neil Kelleher, PhD, professor of Medicine in the Division of Hematology and Oncology — detailed a family of proteins that can predict which patients may reject a new organ transplant. Published in Science, the investigators created a blood test that measures 24 protein variants associated with transplant rejection. The non-invasive test could identify patients at risk of organ rejection, allowing clinicians to act proactively, according to Levitsky.
"If we can pick up on this several weeks before rejection actually happens, we might be able to modify immunosuppression," Levitsky said.
Levitsky is an active member of several professional societies, including the AST, the American Association for the Study of Liver Diseases and the International Liver Transplantation Society. Previously, he was co-chair of the American Transplant Congress, co-chair of the AST Cutting Edge of Transplantation meeting and co-chair of the AST Education Committee.
Levitsky has also published numerous peer-reviewed journal articles, abstracts, book chapters and reviews on liver disease and transplantation. He earned his undergraduate degree from the University of Michigan and his medical degree from the Albert Einstein College of Medicine. He then completed an internal medicine residency and gastroenterology fellowship at the University of Chicago Hospitals and a transplant hepatology fellowship at the University of Nebraska Medical Center.
"As the breadth and scope of AST's influence expands, I hope to continue its mission and initiatives to increase organ donation and improve the lives and longevity of solid organ transplant recipients," Levitsky said. "To help make progress in all aspects of the field, and not just in my area of liver transplantation, is very exciting, meaningful and rewarding to me."