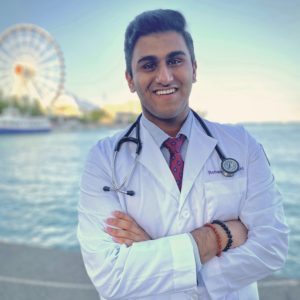 For Rohan Chalasani, a medical student hailing from Pittsburgh, Penn., matriculating at Feinberg was a no-brainer — he said he loved his undergraduate experience at Northwestern University in Evanston and was eager to take on the challenge of medical school in a city he knew and loved.
Now entering his third year, Chalasani recently won the Mack Lipkin, Sr. Award from the Society of General Internal Medicine (SGIM) at the society's annual meeting, presented to scientific presentations considered most outstanding by fellows, residents and students.
Read a Q&A with Chalasani below.
Why did you choose Feinberg?
Listen to Chalasani below:
A very common phrase that you hear to describe the type of people that gravitate toward Feinberg is nice, hardworking and smart — with nice very intentionally coming first, and that definitely rang true for me. I was also really drawn to the ECMH program here at Feinberg, which I think offers a really unique and powerful opportunity to not only get early exposure and development of clinical skills, but also immersion into the nuances and challenges of primary care. Seeing patients in my ECMH and FQHC that's part of Chicago's safety net system has definitely been the highlight of my medical school experience, thus far.
What are your medical or research interests?
I would describe my medical interests as twofold. I envision a career where clinical practice and work in the care delivery and policy spaces reciprocally inform each other. Grounded in a pursuit of equity and justice, I care deeply about transforming care and improving access for underserved communities. I hope to pursue this in my career through the lenses of both care delivery innovation and health policy, shaping care models and payment structures that enable equitable and effective care.
Clinically, I'm very much interested in general internal medicine and primary care. I've been fascinated by every organ system that we've learned about so far, and the breadth of knowledge and exposure you get in general internal medicine is very appealing to me. Internal medicine's emphasis on preventive care, and the fact that generalists are on the front line in terms of being tasked with embracing and addressing social complexity, also feels like a very natural fit for my passions.
My research interests are very much informed by my medical interests, spanning prescription drug policy and pharmacoequity to work that broadly examines factors and policies shaping healthcare delivery. I also do work on the population health team at Oak Street Health — a network of value-based primary care centers serving Medicare beneficiaries.
Tell me about your project that was presented at the Society of General Internal Medicine Annual Meeting.
This project was a collaboration with Dr. Jeff Linder, as well as Drs. David Levine and Bruce Landon at Harvard Medical School. We examined the impact of family income on how Americans interact with the healthcare system. Specifically, we looked at quality, patient experience, utilization and costs of care.
We found some pretty striking and, I would say, sobering disparities. We found low-income Americans receive less high-value care and report poorer healthcare experiences. They received less outpatient and preventive care, but had more hospitalizations and emergency department visits, driving higher total healthcare costs. From the beginning of our study period in 2002 to the end of our study period in 2019, we found that those disparities largely remained stable or widened.
It's a little bit of putting numbers to something for which we have an intuitive sense, but I think these findings underscore that our healthcare system, as constructed, is truly failing low-income Americans. The findings suggest that limited access to high-quality outpatient care may potentially be driving inefficient utilization and higher costs, and our healthcare system is still very much prioritizing acute care over preventive care.
I submitted the abstract to the annual SGIM meeting and was selected as a finalist for the Lipkin award, and at the conference, I was selected as one of the three highest-rated presentations. I'm incredibly honored, and it's certainly been one of the most rewarding experiences during my time in medical school.
Do you have any advice for a prospective medical student?
Surround yourself with mentors who share your interests and values and who are genuinely invested in your growth. I can't overstate how fundamental strong mentorship has been to my journey so far. At each step along the way, I've had mentors who've given me amazing opportunities, pushed me to think more deeply and welcomed me into their own professional networks. I'm deeply grateful for that.