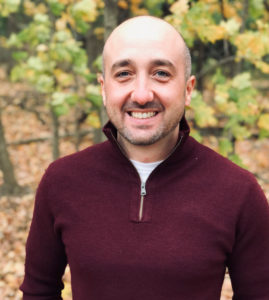 James Gunn, MMS, PA-C, has been appointed director of Feinberg's Physician Assistant (PA) Program, effective July 1. Gunn joins Northwestern from Midwestern University, where he was associate professor and director of the Physician Assistant Program.
"The mission of the PA Program at Northwestern University Feinberg School of Medicine resonated with me; I appreciate the program's focus on preparing graduates to be culturally competent PAs who provide high-quality patient care and who are able to work effectively on interprofessional health care teams," Gunn said.
Gunn earned a Bachelor of Science from University of Illinois at Urbana-Champaign and a Master of Medical Science in physician assistant studies at Midwestern University. After spending time in the Department of Otolaryngology — Head and Neck Surgery in the Northwestern Medical Faculty Foundation, Gunn joined the PA program at Midwestern University — College of Health Sciences, eventually rising to PA program director in 2019. He is also currently pursuing a PhD in curriculum studies with a focus in health professions education at the University of Illinois at Chicago.
He takes the reigns of the Feinberg PA program during a busy time, with an upcoming accreditation site visit by the Accreditation Review Commission on Education for the Physician Assistant (ARC-PA) and continuous improvements in curriculum and clinical experiences.
"I am excited that James Gunn will bring his talents to Northwestern's outstanding PA program," said Marianne Green, MD, the Raymond H. Curry, MD, Professor of Medical Education and vice dean for Education. "As PA schools are expanding across the country, we need to continue to provide an outstanding educational and clinical environment that will attract the top students. I am confident that we can continue to do so under James' leadership and look forward to working with him."
Gunn said he is excited to play a part in the Problem-Based Learning (PBL) curriculum in the PA program. PBL is a cornerstone of the educational experience, in which students spend one year in didactic curriculum before making the leap to clinical rotations and clinical opportunities with Northwestern Medicine.
"This partnership with Northwestern Medicine can also facilitate the program's ability to explore and implement innovative curricula that support students' achievement of the program's core competencies, which will subsequently prepare them for providing high-quality, patient-centered care," Gunn said.
Gunn also hopes to engage with diversity, equity and inclusion efforts on campus, expanding the PA program's emphasis on those initiatives.
"I believe healthcare providers are uniquely positioned to support social justice changes that ultimately enhance the health of our patients and communities," Gunn said.
Gunn is a member of the American Academy of Physician Assistants, the Physician Assistant Education Association and the National Society of Collegiate Scholars.
Gunn will take over from Michael MacLean, MS, PA-C, assistant professor of Medical Education and current director of the PA program, who is stepping down after nine years in the position and will remain on the PA program faculty.
"Serving as the PA program director for nearly nine years has been incredibly rewarding, and I am proud of all that we have accomplished since the program's inception in 2010," MacLean said. "I am looking forward to working with James as he leads our thriving program forward to new heights in the years ahead."
"Mike has been an exceptional leader of our PA program since 2013," Green said. "In addition to leading an excellent educational program for our PA students, Mike has been instrumental in advancing the interprofessional collaborations between PA and MD students. I am grateful for his leadership."