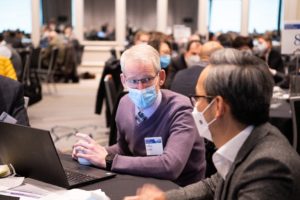 Nearly 200 principal investigators gathered in early February at the Fairmont Hotel for discussion and brainstorming to generate the research priorities that will help guide the Feinberg research enterprise for the next five years.
"We gather to reflect on where we have been and where we are going," said Eric G. Neilson, MD, vice president for medical affairs and Lewis Landsberg Dean.
Rex L. Chisholm, PhD, vice dean for scientific affairs and graduate education and the Adam and Richard T. Lind Professor of Medical Genetics, presented data that showed an increase in research funding and research activity has contributed to strong rankings by the National Institutes of Health and U.S. News and World Report, as well as more support for the growing faculty and student populations.
In 2021, Feinberg received $610.4 million in funding, which is a nearly 30 percent increase since fiscal year 2017 when the last research retreat was hosted.
To continue to grow and stand out in a competitive biomedical research landscape, Chisholm noted that Feinberg must outline strategic priorities to improve human health and contribute to novel research discoveries.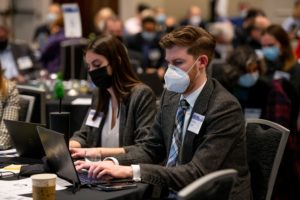 In three rounds of discussion, the scientists discussed and shared impactful and strategic research ideas for Feinberg leadership to consider. During each round of table discussion, participants had the opportunity to share comments and ideas through an online application called Slido that was accessible via phone or computer. The ideas were projected onto screens around the room.
Hundreds of thoughts and suggestions generated during the retreat were recorded for future use and review. The event was managed by the University Office of Administration and Planning, with support from Northwestern Information Technology and Special Events.
The sponsor group for the research retreat will meet post-retreat to review the data gathered and form a proposal for strategic research areas.
The retreat was hosted by Neilson and Chisholm.