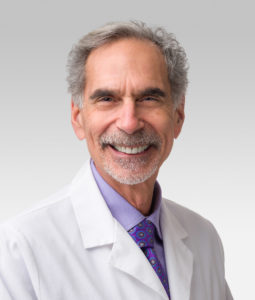 Robert Kushner, MD, '80, '82 GME, professor of Medicine in the Division of Endocrinology, was honored by the Clinical Research Forum with a 2022 Top 10 Clinical Research Achievement Award.
Kushner and his collaborators found a new anti-obesity medication was almost twice as effective at helping individuals lose weight than many of the current weight-loss drugs on the market, according to findings published in The New England Journal of Medicine.
"I am honored to be recognized by the Clinical Research Forum for our seminal study published in The New England Journal of Medicine," said Kushner, who was corresponding author of the study and is also a professor of Medical Education. "The award is a tribute to the outstanding study team and the impact of semaglutide in the treatment of people living with obesity."
The Clinical Research Forum was formed in 1996 to discuss the unique and complex challenges to clinical research in academic health centers. The Top 10 Clinical Research Achievement Awards honor outstanding accomplishments in clinical research, and are recognized at the Clinical Research Forum Annual Meeting in Chicago.
The STEP 1 Trial
The Semaglutide Treatment Effect in People with Obesity (STEP) 1 trial, a multi-site study with nearly 2,000 participants, investigated the effectiveness and safety of taking a weekly injection of semaglutide along with individual lifestyle counseling sessions. Approximately 70 percent of the 1,961 study participants achieved weight loss of at least 10 percent of their baseline body weight, and one-third of study participants treated with semaglutide lost at least 20 percent of their baseline weight, an average of about 46 pounds.
This represents a common outcome for many patients who have had bariatric surgery one to three years later, though surgery carried additional risks, according to Kushner.
"Obesity contributes to the development of the most common and serious medical problems that we treat every day including diabetes, heart disease and some forms of cancer," Kushner said. "Development of safe and effective pharmacological treatments for obesity is one important step that we can add to our armamentarium."
John Wilding, MD, professor of cardiovascular and metabolic medicine at University of Liverpool Institute of Ageing and Chronic Disease is the study's first author. Thomas Wadden, PhD, the Albert J. Stunkard Professor of Psychology in Psychiatry at the Perelman School of Medicine at the University of Pennsylvania and Ildiko Lingvay, MD, professor of internal medicine at UT Southwestern Medical Center, also were co-authors.
Funding for the study was provided by Novo Nordisk, which manufacturers Rybelsus and Ozempic (semaglutides intended for diabetes treatment). Kushner received advisory board fees from Novo Nordisk.