Medical students satirized the medical school experience during the annual performance of In Vivo, Feinberg's annual sketch comedy and variety show. For this year's show, audience members had the option of attending the show live in the Hughes Auditorium at the Robert H. Lurie Medical Research Center or virtually.
This year's student-led production, called "In Vivo Goes Pass/Fail", raised money for the Chicago Public Schools (CPS) Compassion Fund, which provides direct emergency relief and support for CPS students and families facing adverse circumstances.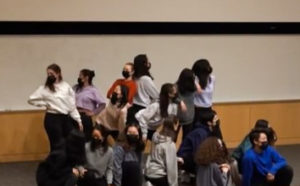 The evening featured both live and digital comedy sketches as well as musical performances. This year's show was directed and written by second-year medical student Manasa Pagadala and produced by second-year medical student Lucy Luo. Digital skits were filmed and edited by Alan Luntz.
"Being able to even pull off a partially live show this year with so many enthusiastic and talented members was such a privilege and I really hope it gave people an opportunity to really take a break, sit down and laugh. In Vivo has been an amazing outlet to share our perspective on medical school and has allowed us to build friendships and connections over a common goal of getting others to laugh at themselves," Pagadala said.
Comedy sketches in this year's show poked fun at the medical school experience, from clinical training and exams to good-humored impersonations of Feinberg faculty. The show concluded with performances from Feinberg's Dance Interest Group and student acapella group, Docapella.
"I joined In Vivo during my second year at Feinberg. In Vivo is a fun opportunity to explore our creative sides and laugh together about the little things as we go through medical school, all while supporting a worthwhile charity every year," said fourth-year medical student Basel Ahmad, who wrote and performed the "Undercover Dean" comedy sketch.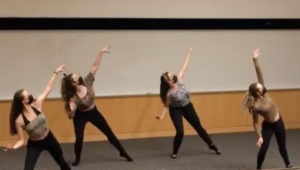 The evening raised over $2,500 for the CPS Compassion Fund, which aims to provide basic needs for CPS families and students while promoting safe, supportive and equitable learning environments.
This year's In Vivo cast also included medical students Anahita Iyer, Riya Saxena, Alexis Kushner, Basel Ahmad, Melody-Brown Clark, and Katie Owens, and Feinberg faculty members David Salzman, MD, MEd, associate professor of Emergency Medicine and Medical Education;  Eugene Silinsky, PhD, professor of Pharmacology; Gemma Carvill, PhD, assistant professor in the Ken and Ruth Davee Department of Neurology's Division of Epilepsy and Clinical Neurophysiology, of Pediatrics and of Pharmacology; and Alan Hauser, MD, PhD, professor of Microbiology-Immunology and of Medicine in the Division of Infectious Diseases.
"I first heard about In Vivo when I was applying to Feinberg last year. I loved the idea of looking at medical school with a healthy dose of humor and stupidity. It's been so fun to get involved, write a few sketches and entertain my classmates," said first-year medical student Sam Blizzard, one of this year's cast members.